There are many ways to wear a lace front wig. Some people can use tape and elastic bands or glue. If you choose to glue your wig, make sure it is used correctly and there are no dangerous chemicals. When girls install the lace front in place, and should choose a specially designed adhesiv, should not use eyelash glue or glue used for crafts. Not everyone can wear a wig, some people are allergic to some materials used in wigs, although they are human hair, they have also been processed and treated, therefore, everyone needs to ensure that they are safe for themselves, everyone should have a test for the wig in advance. One of the simplest of these methods is to use tape and elastic bands to install a lace front wig.
Here is a guide to help women wear their lace front wig without using glue:
1. Everyone should start by preparing own skin. Girls need to wash with a mild cleanser. A cotton swab should be dabbed with some alcohol, and use the cotton swab with alcohol to wipe the hairline to remove excess grease.
2. The wig should cover all of own hair, some people can make their own natural hair become a braid, keep their own natural hair flat, then wear the wig cap and keep the wig in place.
3. Put the wig on the head and fit it. The elastic should be tight if someone feels it is too loose on their head. The elastic should be loose if someone feel it is too tight on their head. If it is not suitable, your look will not pretty with the lace front wig.
4. After the wig is in place, the excess lace can be trimmed.
5. When girls need to trim the lace, and should use a sharp pair of scissors to trim the lace along the hairline carefully .
6. If some people think they will look good if they have baby hair, hair in the hairline should be cut into smaller pieces then pull the hair out, which will make the hair wig more natural. Mousse and water can help to fix the hair.
7. Comb and style the hair wig.
The Brief Introduction of Lace Front Wigs in Alipearl Hair Store
There are three types of lace front wigs in Alipearl Hair Store, which are 13x4 lace front wigs, 13x6 lace front wigs, and 360 lace frontal wigs. They have different lace areas and provide different choices for different customers. The bestseller is 13*4 lace front wigs, the common length is between 14 inches and 30 inches, and there are various hair color of lace frontal wigs, which are natural black, highlight, #613 blonde, brown, #99J, #Ginger and other ombre color. The natural black is a top seller, then #613, Dark brown #4, #99J, #Ginger. Hair textures include deep wave, body wave, straight hair, curly hair, loose deep, natural wave, water wave, loose wave, kinky curly, kinky straight, and Wet&Wavy, you can choose the one you like.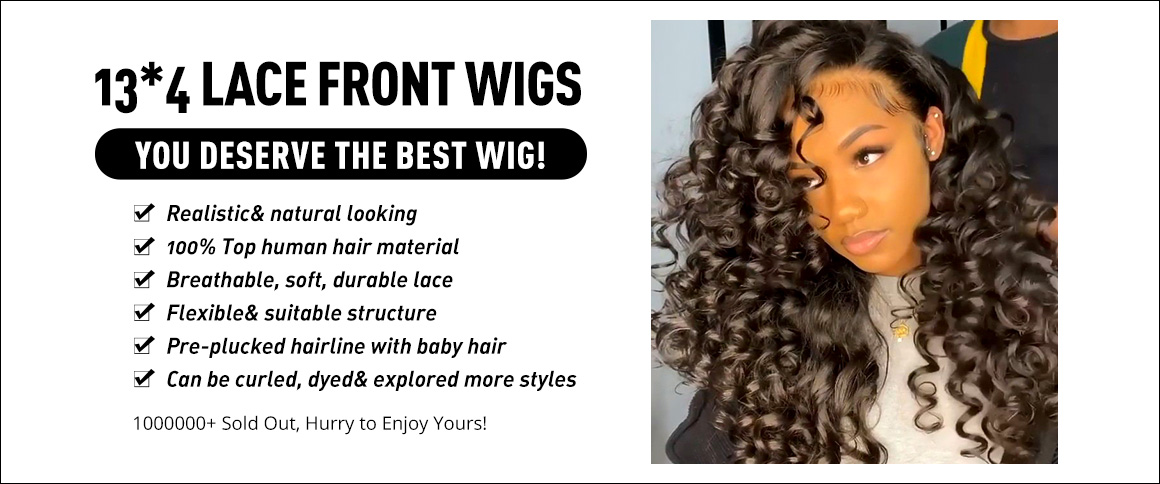 Alipearl Hair Black Friday Hair Sale Coupons
Women should live for beauty, buy the favorite wig and add a beauty for ourselves. In order to let everyone enjoy more discounts, Alipearl Hair Black Friday Wigs Sale has begun. Follow the following shopping tips of Black Friday to find the most cost-effective deal and minimize depression and overspending. Remember, Shop Early, Save Early, Ship Early, Receive Early!
1) Buy More, Save More (Expired On Nov.28th)
Over $159, Get Extra $8 Off - Code: PP8
Over $279, Get Extra $25 Off - Code: BF25
Over $499, Get Extra $50 Off - Code: BF50
Site-Wide, Get Extra6% Off - Code: ALIPEARL
All Wigs, Get Extra 8% Off - Code: APWIG8
2) BUY ONE GET ONE FREE (Expired On Nov.28th)
Buy Selected 4x4 Closure Wig,
Get One Free Same Length Curly Headband Wig
3) Over $101, Get $100 Off Coupon (Expired On Nov.28th)
CODE: BF100
*Available For Selected Wigs
4) FREE ORDER(Available On Nov.26th - 28th) :
1st 10th 20th 30th 40th... Orders Every Day
5)CASH BACK (Available On Nov.26th - 28th) :
WIN $100 CASH BACK, PICK 10 LUCKY GIRLS EVERYDAY
6) Free Gifts, Add It At Bonus Buy (Available On Nov.26th - 28th)