These sweatshirt picks, from custom designs to classic crewnecks, deserve a permanent spot in your closet.
Photo by: Good Scout Supply
As sweatshirts rightfully gain status as a true wardrobe essential, there's no better time to take a look in your closet and see which of these picks for the best sweatshirts could be the cozy complement to your current collection. And with the 'ber months coming (you know, the cozy months of September, October, November, and December), a well-made sweatshirt is something you'll probably be spending lots of time lounging in. With everything from custom sweatshirts featuring sweet personalizations to holiday sweatshirts with festive touches to get you in the spirit, these are the best sweatshirts for men and women to wear on repeat while the comfy-cool trend surges.
See our top picks for the best sweatshirts
Best Personalized Sweatshirts | Best Holiday Sweatshirts | Best Embroidered Sweatshirts | Best Preppy Sweatshirts
Shop sweatshirts
Best personalized sweatshirts
Whether it's outfits for family pictures, matching sweatshirts for a memorable trip with friends, or a thoughtful anniversary gift, these custom sweatshirts are a unique way to dress yourself in self-expression.
1. A pet-adorned sweatshirt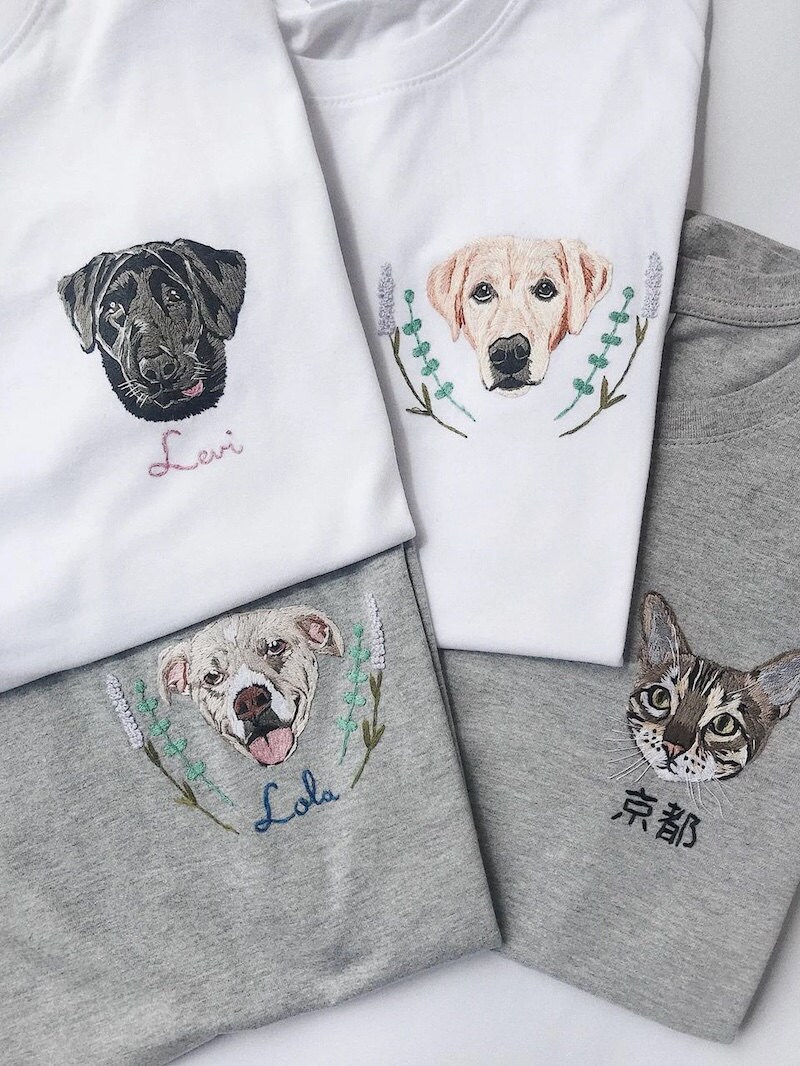 SHOP: Embroidered pet portrait sweatshirt from Vyshyto, from $62
Have a four-legged friend who deserves the limelight? This sweatshirt features a custom illustration of your pet and keeps them close to your heart.
2. Personalized couple's sweatshirts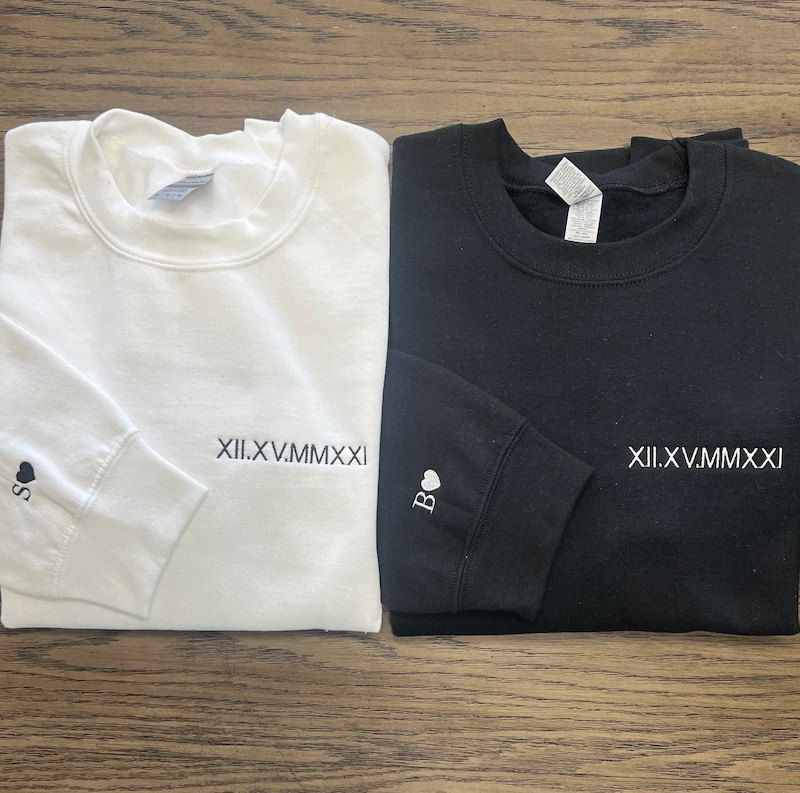 SHOP: Embroidered Roman numeral sweatshirt from Custom Trendy Goods, from $33
Celebrate a special date in your relationship (or give this as a unique personalized wedding gift) by adding it to this custom sweatshirt using Roman numerals. You can add initials to the sleeves, too!
3. Neon monogram sweatshirt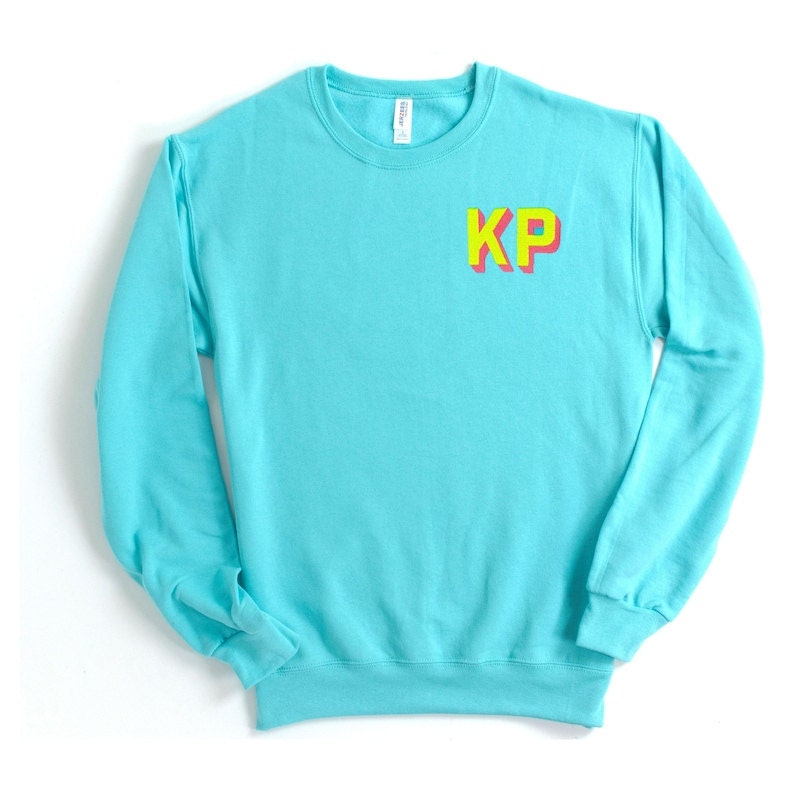 SHOP: Neon monogram sweatshirt from Above All Designs, $34
Rock your initials in style with this neon crewneck sweatshirt that is sure to brighten up any outfit.
4. Custom college letters sweatshirt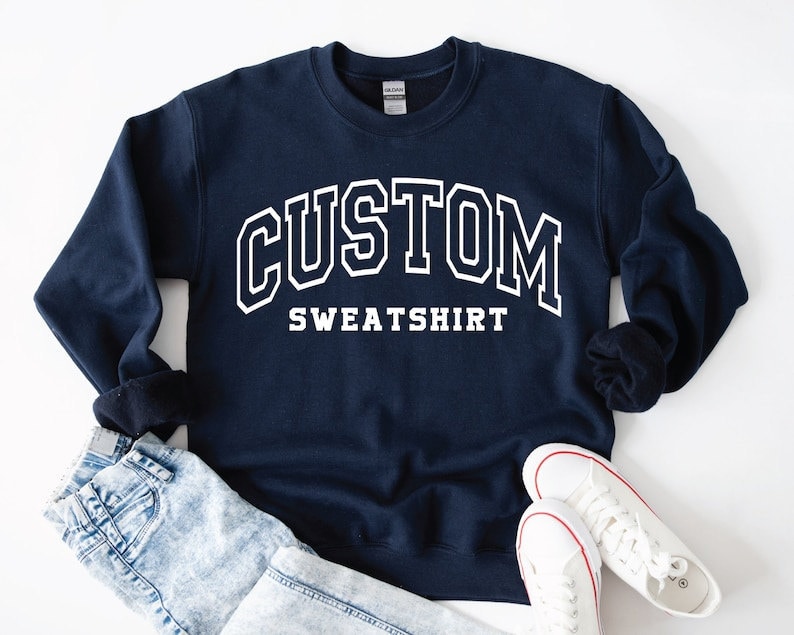 SHOP: Custom college letters sweatshirt from Mary Apparel Design, from $30
Whether you're in school now or just miss the good old days of walking around campus, this sweatshirt featuring college letters that you can customize to say whatever you want will make you feel all nostalgic.
Best holiday sweatshirts
From spooky and adorable Halloween vibes to festive Christmas sweatshirts that you'll want to wear all season long, these holiday sweatshirts will fill you (and your closet) with so much joy.
5. Fall pumpkin sweatshirt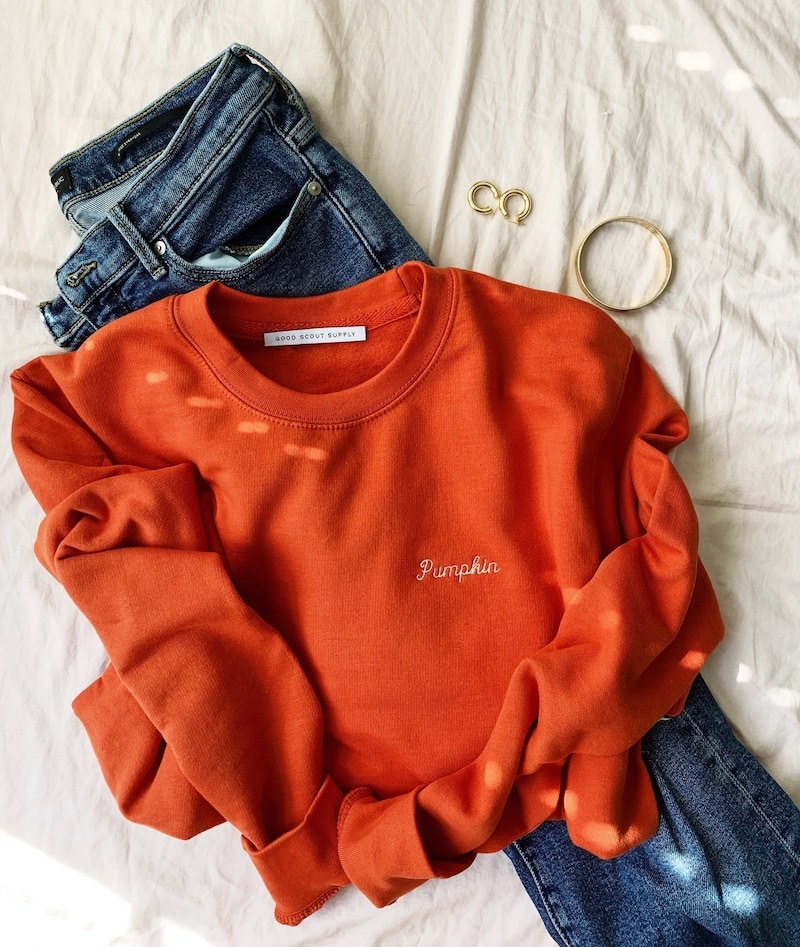 SHOP: Pumpkin sweatshirt from Good Scout Supply, $40
A must-have addition to your fall capsule wardrobe, this burnt orange crewneck sweatshirt is embroidered with the word "pumpkin" and looks great paired with jeans and booties or as an easy Halloween costume!
6. Thanksgiving pie sweatshirt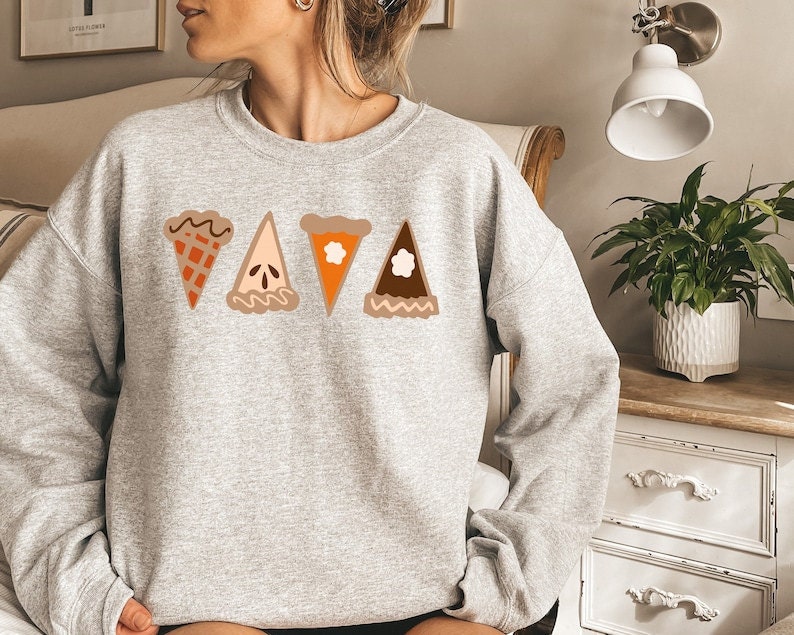 SHOP: Thanksgiving pie sweatshirt from USTeeShirt, from $14
Holiday pies are top tier, so whether your favorite is pumpkin or apple, this crewneck sweatshirt allows you to wear your love for the dessert on your sleeve (well, sort of).
7. Christmas cookies sweatshirt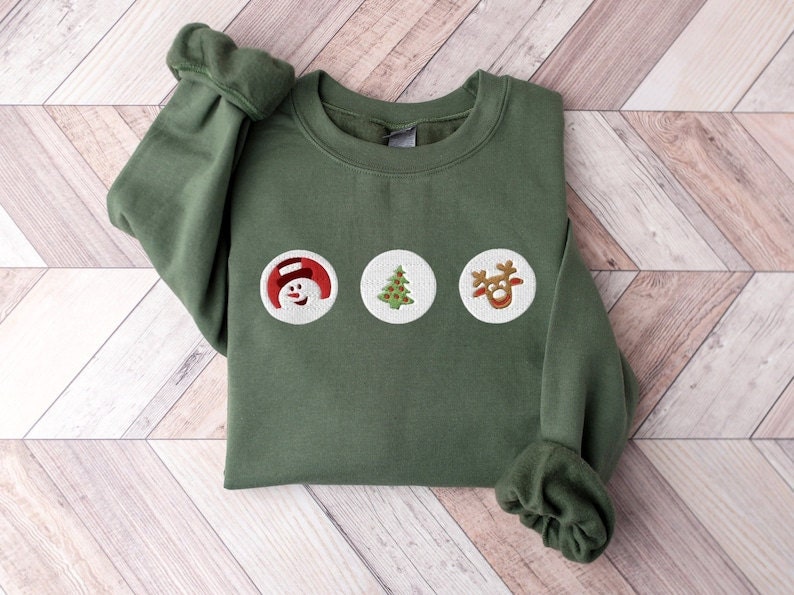 SHOP: Christmas cookies sweatshirt from Quartz Design Studio, from $60
Want to achieve the perfect night in? Bundle up in this sweatshirt featuring classic Christmas sugar cookie designs while a batch of real cookies bakes in the oven. Perfection!
8. Happy Hanukkah sweatshirt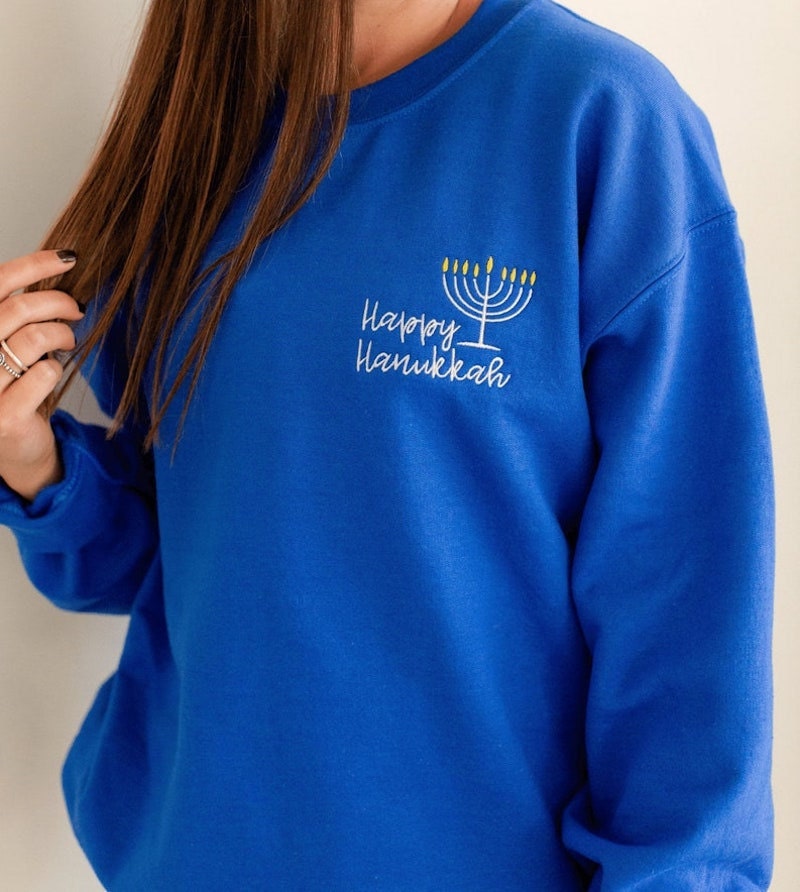 SHOP: Happy Hanukkah sweatshirt from Oh Sarah Jean, from $41
If you're looking for a festive and oversized sweatshirt to relax in this year, this bright blue Hanukkah number will be worn on repeat.
9. Ghost dogs Halloween sweatshirt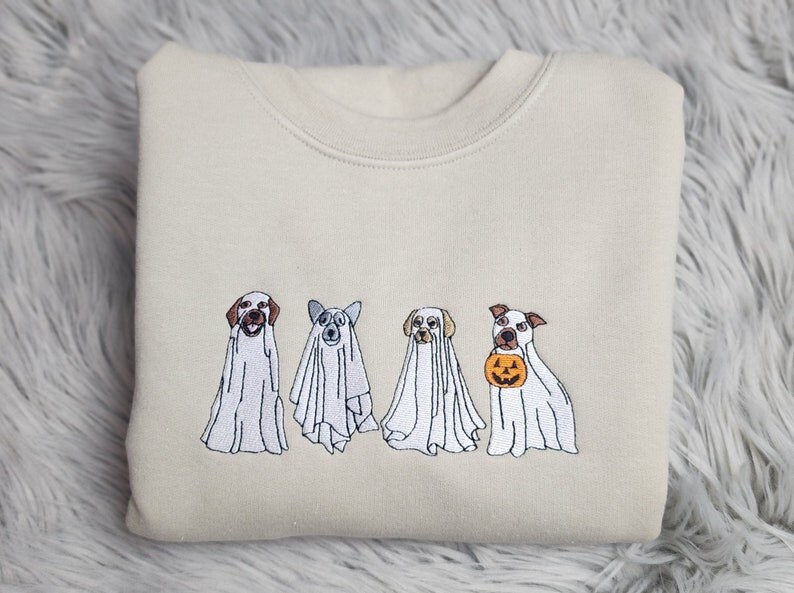 SHOP: Embroidered ghost dogs Halloween sweatshirt from EmbroideryByLnD, from $40
Love to dress your pup up for Halloween every year? This crewneck sweatshirt featuring dogs in ghost costumes is simple yet oh-so-cute.
10. Halloween graphic sweatshirt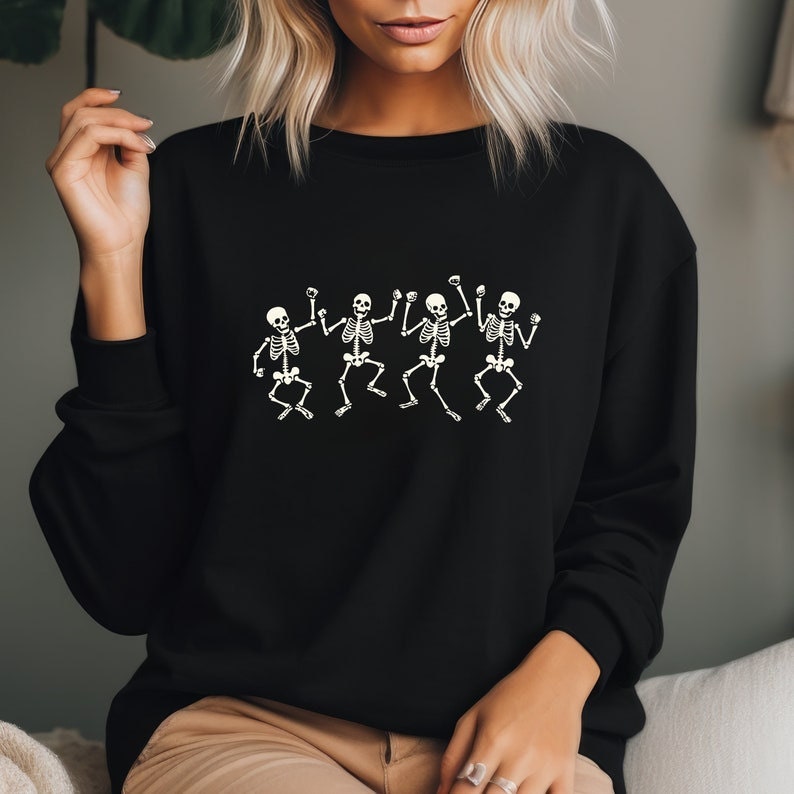 SHOP: Halloween graphic sweatshirt from Teammates, from $33
If you like a little dose of humor with Halloween, this black sweatshirt featuring dancing skeletons is the perfect addition to your cozy outfit collection.
Best embroidered sweatshirts
When it comes to the best sweatshirts for men and best sweatshirts for women, a simple embroidered detail can go a long way in showing off your personality without giving away too much. From sweet sayings to favorite foods, these embroidered sweatshirts speak to all kinds of interests.
11. Bee kind sweatshirt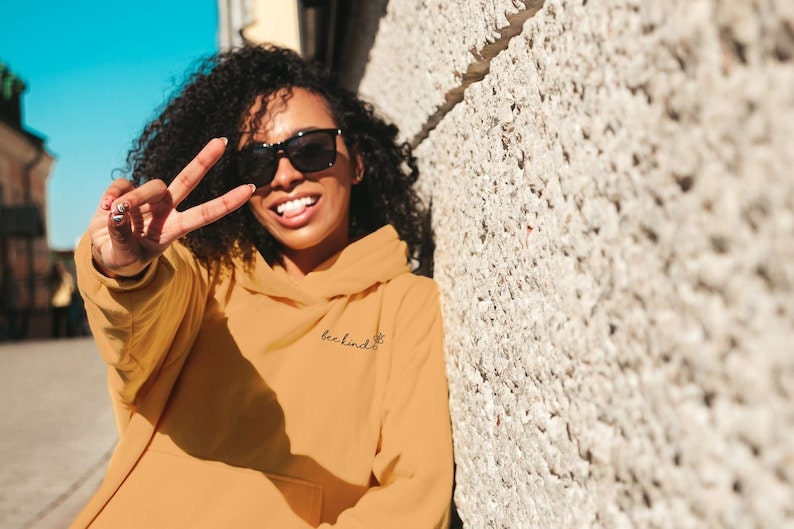 SHOP: Bee kind sweatshirt from EnduoApparel, $48
Spread the love wherever you go in this hooded sweatshirt with "bee kind" embroidered in dainty lettering.
12. Tiny bike embroidered sweatshirt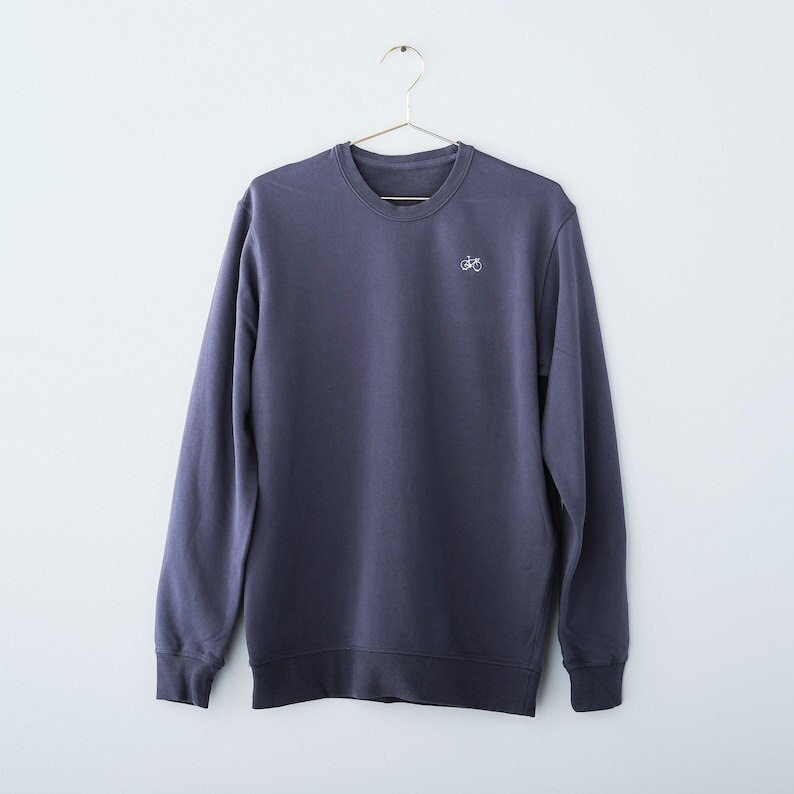 SHOP: Tiny bike embroidered sweatshirt from vital, $62
Love cycling? This embroidered sweatshirt features a tiny bike detail on the chest for a subtle nod to the beloved hobby. And if you want an oversized sweatshirt look, just size up for extra coziness.
13. Heart lollipops embroidered sweatshirt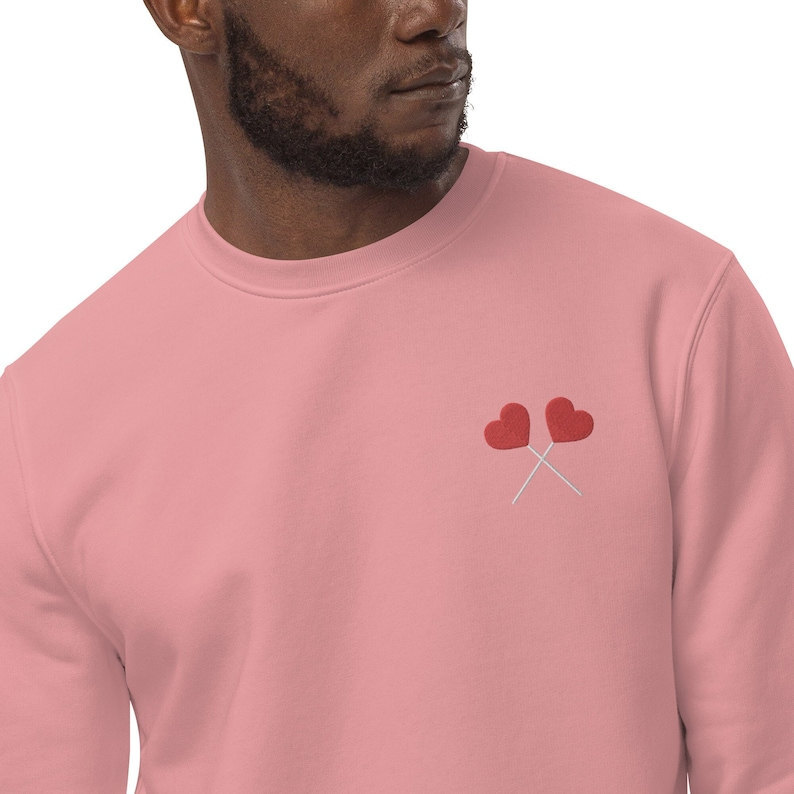 SHOP: Heart lollipops embroidered sweatshirt from Inked & Printed, $68
You don't have to have a sweet tooth to appreciate this heart lollipops sweatshirt! And if pink isn't your color, it also comes in navy or black.
14. Embroidered pizza sweatshirt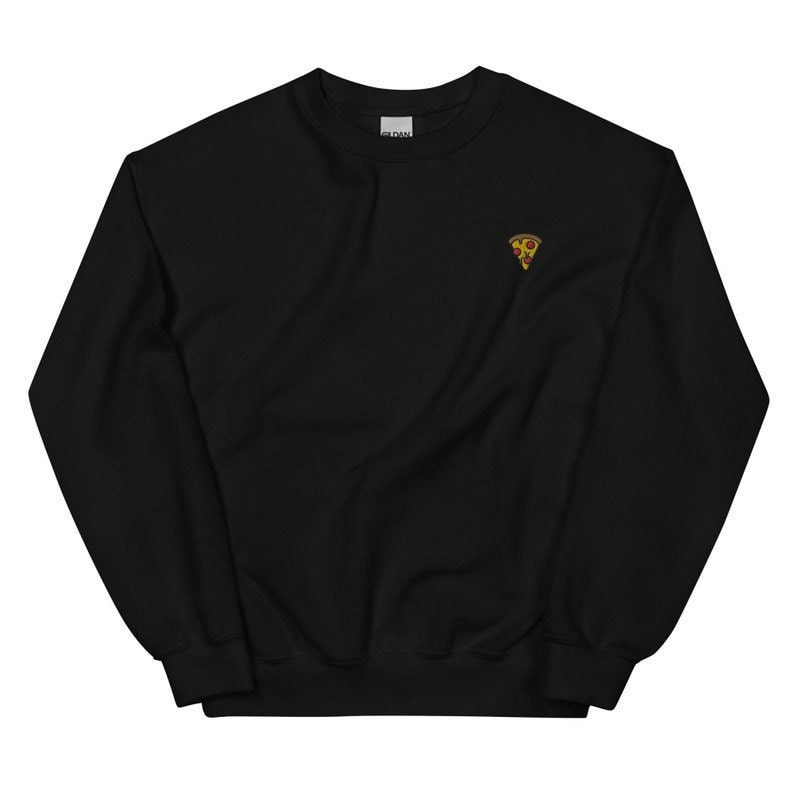 SHOP: Embroidered pizza sweatshirt from GetStitch, $45
Pizza is life, so we fully understand if you want to wear this sweatshirt embroidered with a little slice of pie every single day.
Best preppy sweatshirts
Dressing "preppy" doesn't always involve polo shirts and tennis skirts. If you want a more laid-back look while still putting a little prep in your step, these fun sweatshirts strike just the right balance.
15. Smiley face sweatshirt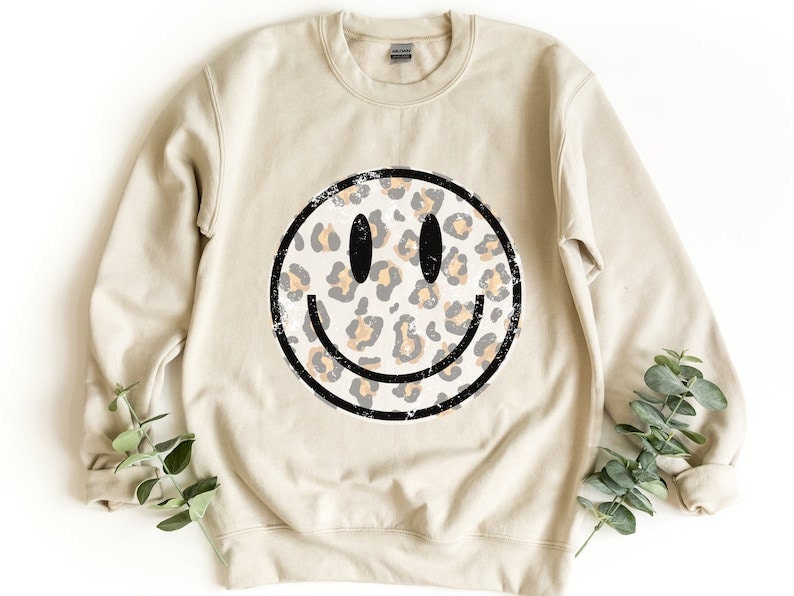 SHOP: Smiley face crewneck sweatshirt from Active Design TX, from $30
Bring a smile to someone's face wherever you go with this preppy crewneck sweatshirt featuring a smiley face in a fun leopard print.
16. Outer Banks crewneck sweatshirt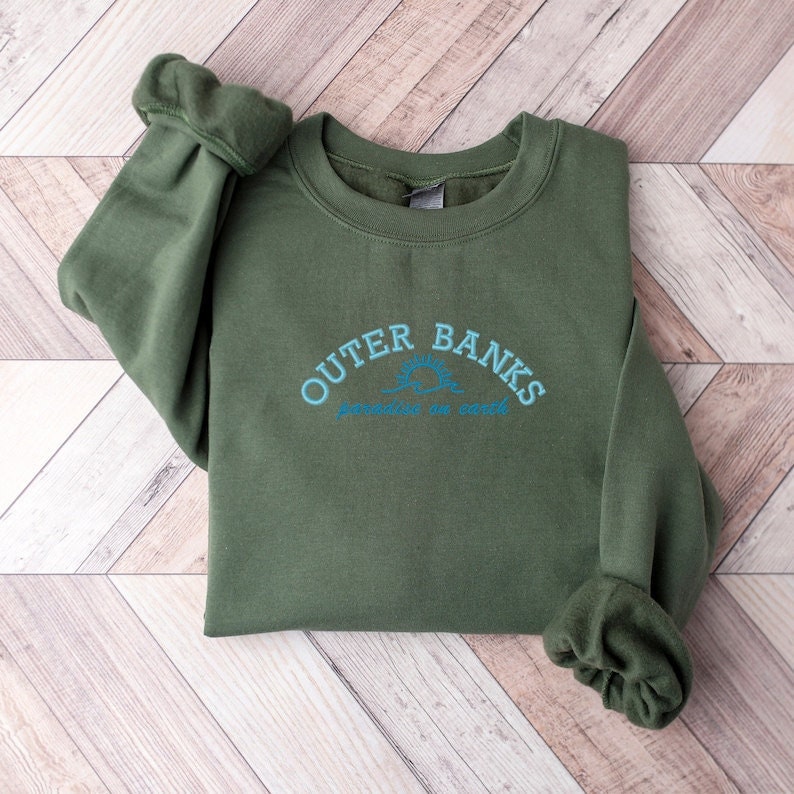 SHOP: Outer Banks crewneck sweatshirt from Stitch Lab Embroidery, from $30
Whether you live in the Outer Banks, love to vacation there, or only dream about visiting one day, this preppy sweatshirt will transport you to paradise with each wear.
17. A bright patterned sweatshirt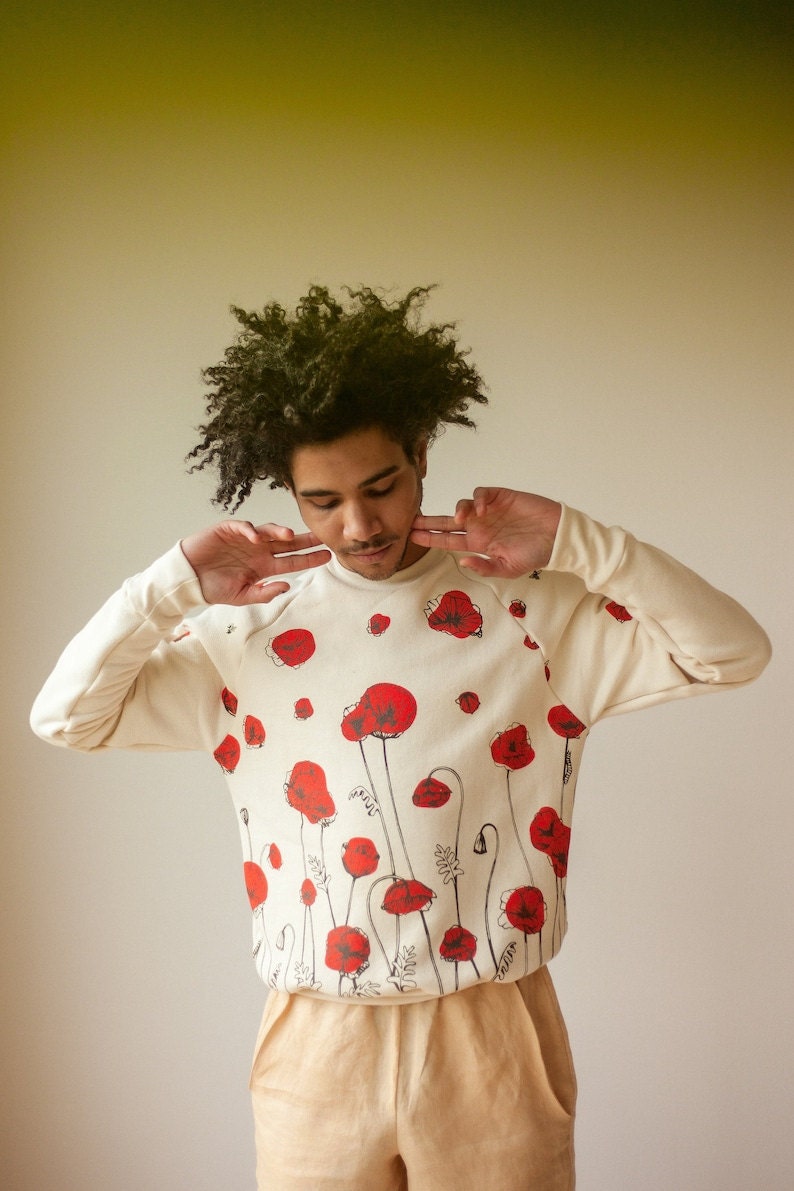 SHOP: Organic poppy pullover sweatshirt from Object Apparel, $168
A true style staple gets a pop-art upgrade in this off-white crewneck sweatshirt covered in bold red poppy flowers. Perfect for both men and women, this sweatshirt gets rave reviews from buyers for its thick yet soft construction and the incredible detail in the floral print (including little bees!).
18. A modern camouflage sweatshirt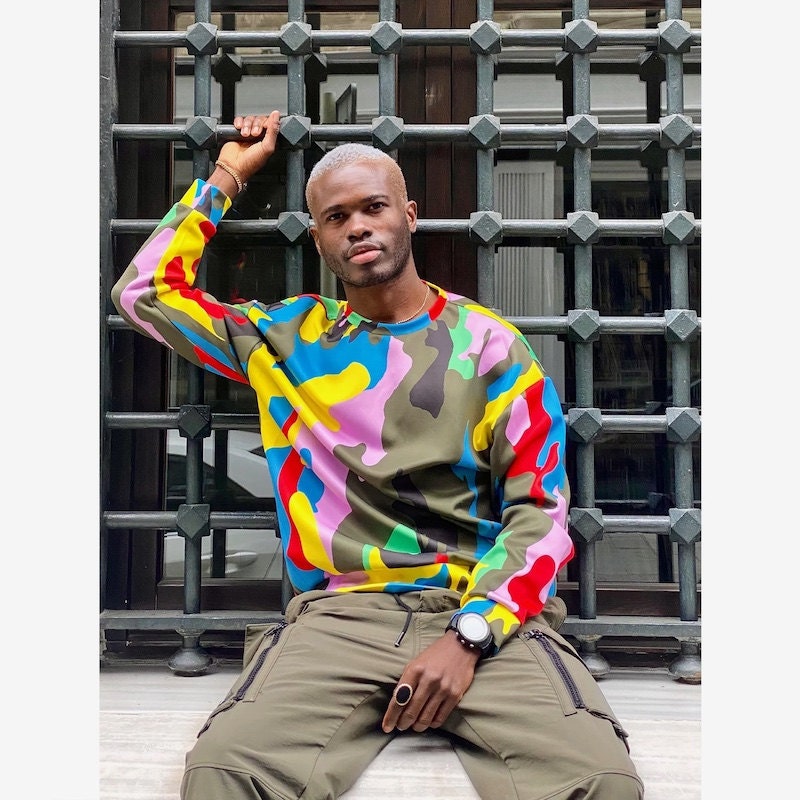 SHOP: Multicolor sweatshirt from Dear Deer Menswear, $72
Made from a mix of scuba and polyviscon fabric, this is the best sweatshirt for busy days when you want a bold look with maximum comfort.
19. Girls friendship sweatshirt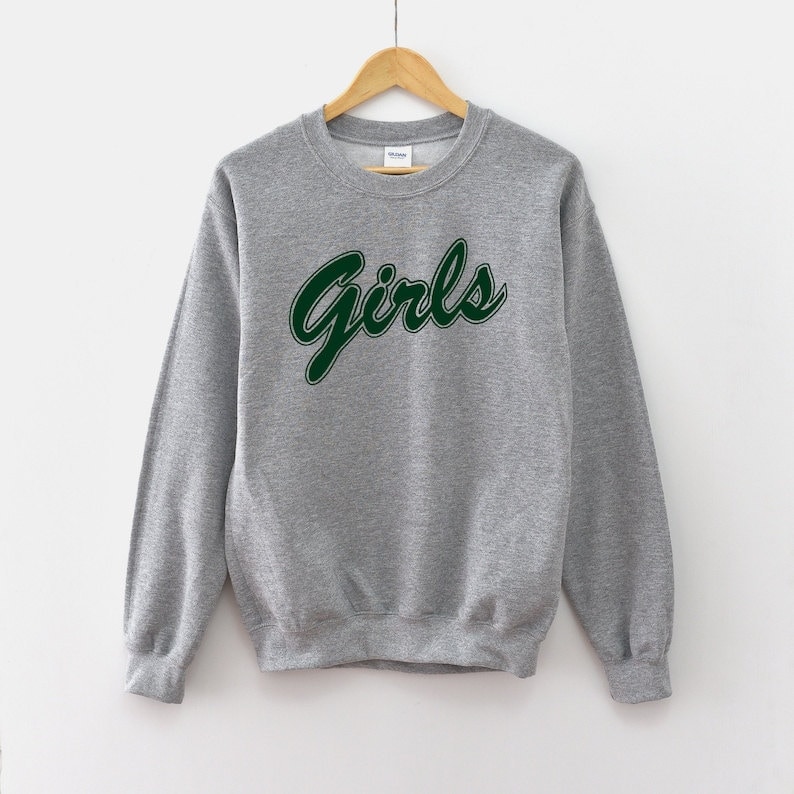 SHOP: Girls sweatshirt from Brvo Tees, from $35
Perfect for a gift for your best friend, this sweatshirt is a great way to remind them that their girl squad will always be there for them.
Where to find vintage sweatshirts
Looking for a more nostalgic look? Thanks to the comeback of vintage '80s and '90s fashion, throwback trends have never been more relevant. If you're after vintage sweatshirts, you can shop classic '90s sweatshirts carefully sourced by Etsy sellers and find a design that's the ultimate in both grunge and glamour.