Channel your inner goddess with bold, beautiful jewelry made with the utmost craftsmanship from brass and silver.
Photo by: Esther Lee Hollywood
In our Featured Shop series, we shine a light on a standout shop from Etsy's talented seller community, offering readers a behind-the-scenes look at their process and story.
Whether you're getting dressed up for a celebratory night out, having low-key drinks with friends, or just heading to the office, rocking beautiful jewelry can help transform your whole outlook—to help you look good and feel good. "When you have something beautiful on," says Jordan Clarke, the Toronto-based jewelry designer and 2023 Etsy Design Awards finalist behind Enarmoured, "you leave your house confident that you can handle anything."
Explore the Enarmoured collection
Each textural silver and brass necklace and pair of earrings in the Enarmoured collection seamlessly adapts to styles of all kinds. Inspired by ancient armor, rituals of protection and adornment, and wavy shapes found in nature, Jordan creates long-lasting jewelry made for everyday use.
We chatted with Jordan about her approach to making jewelry and her tips for styling statement pieces. Read on to see what makes Enarmoured so empowering—and pick out a piece (or two) for yourself!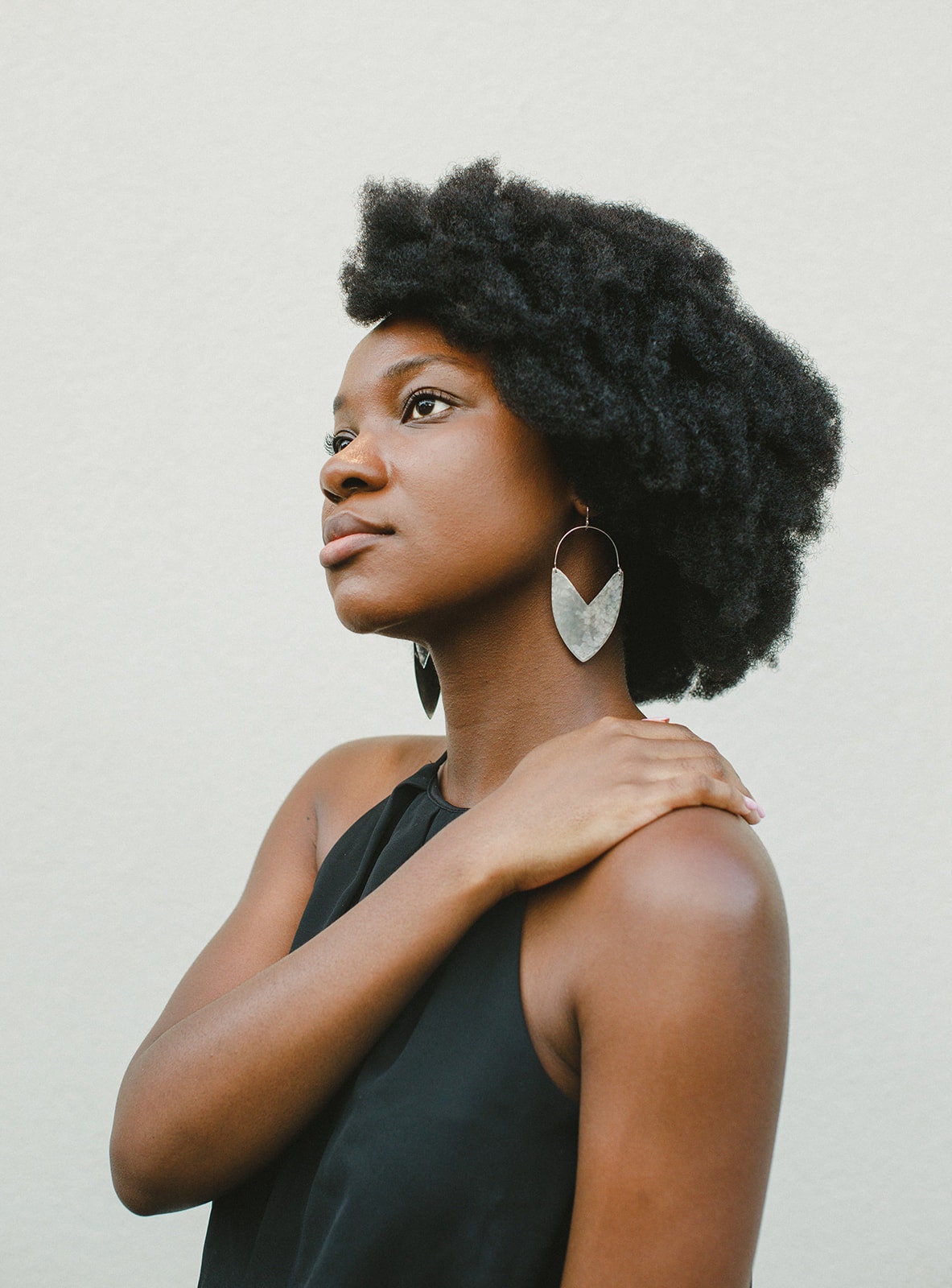 SHOP: Silver tulip shield earrings from Enarmoured, $220
Photo by: Esther Lee Hollywood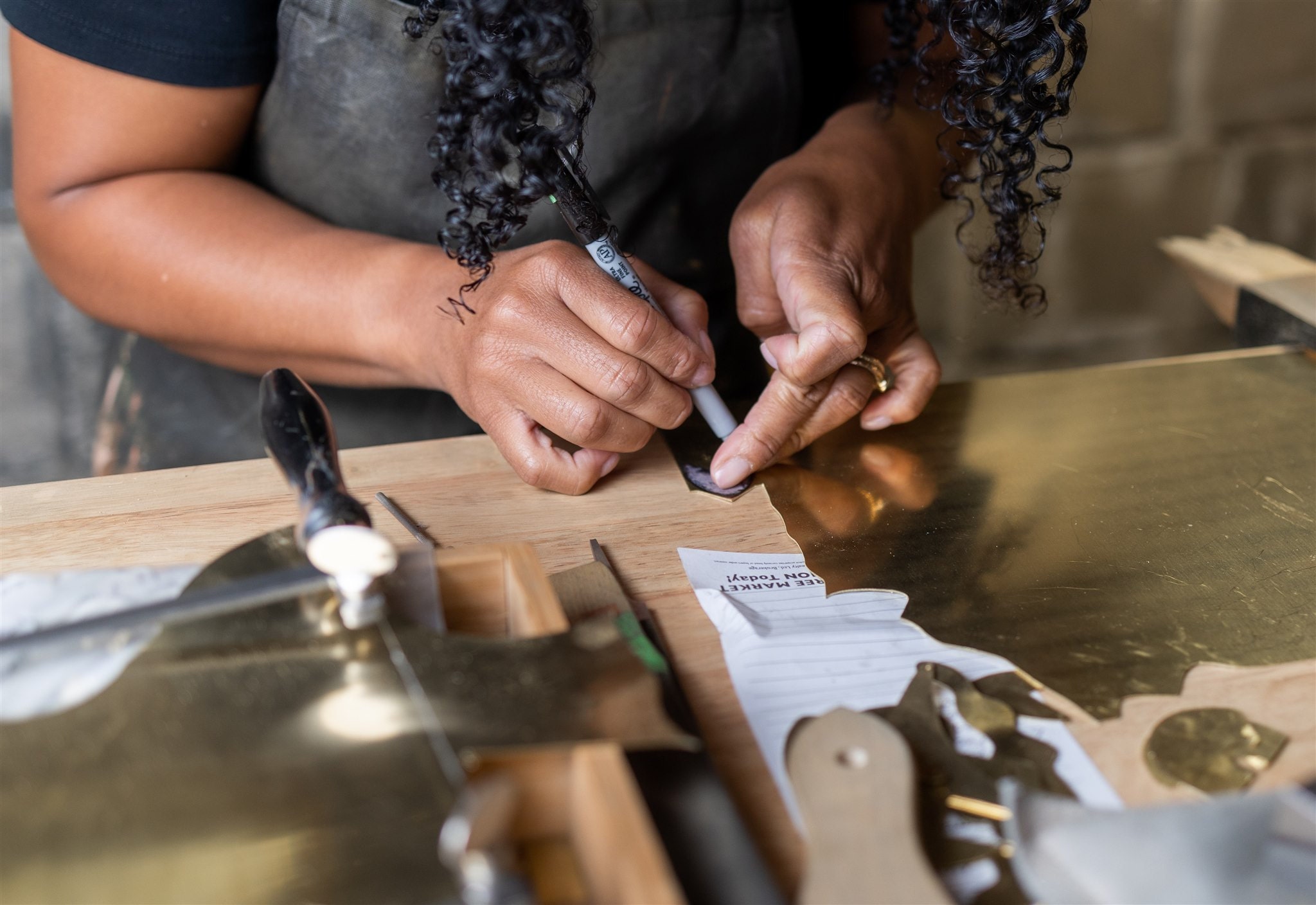 Photo by: Kenda Al Yakobi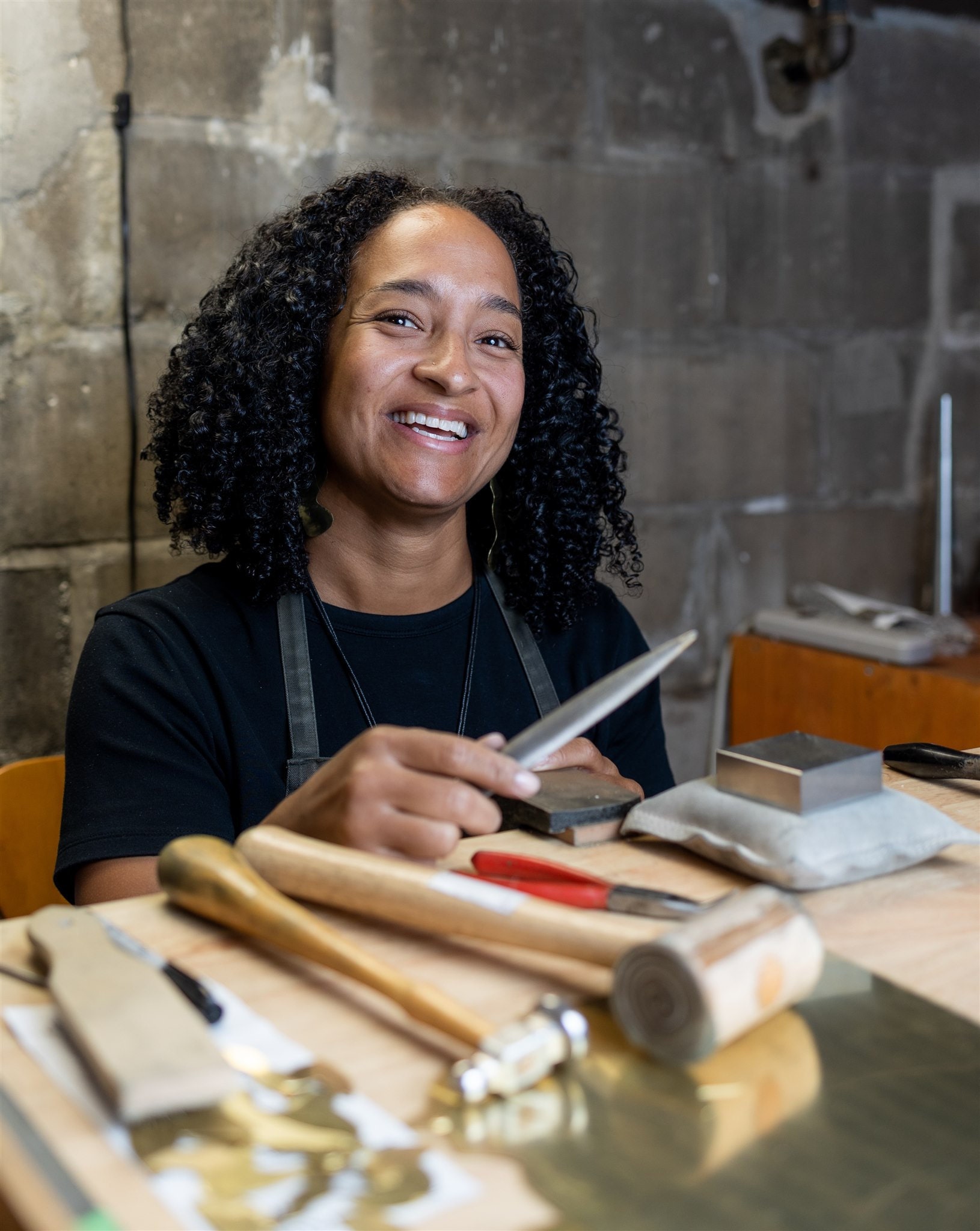 Photo by: Kenda Al Yakobi
How do you describe the aesthetic of the Enarmoured collection?
It's all wearable art. Big, fun statement pieces. Everything is very bold, yet elegant. I've branded my jewelry as everyday jewelry because it's lightweight and wearable. The pieces aesthetically look heavy, but they are all extremely lightweight. They can hang literally from the stem of a flower and not pull it down. That's how light they are.
What's the inspiration behind your shop's name?
My middle name is Armour. And the style of my jewelry is inspired by medieval armor, specifically the idea of a shield as something to protect yourself, but also as feminine adornment. You can see the imagery of the shield throughout my pieces and in titles, like the Goddess Shield earrings and the Tulip Shield earrings and necklace, which look like a flower, but it's loosely inspired by the shape of a hand shield. Rather than just having my shop name be "Armoured," I played on the word "enamoured," which is to fall in love with something.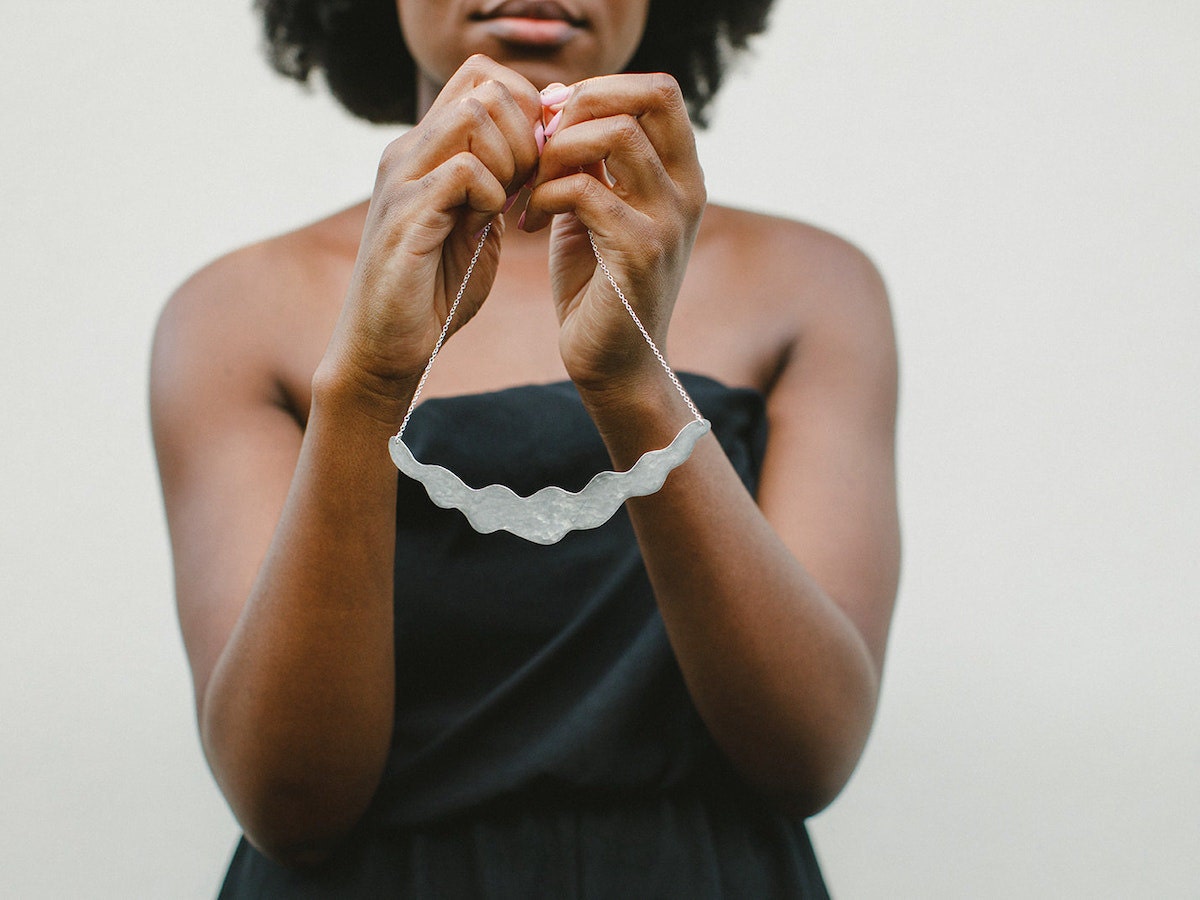 SHOP: Brass wave collar necklace from Enarmoured, $181, also available in silver for $263
Photo by: Esther Lee Hollywood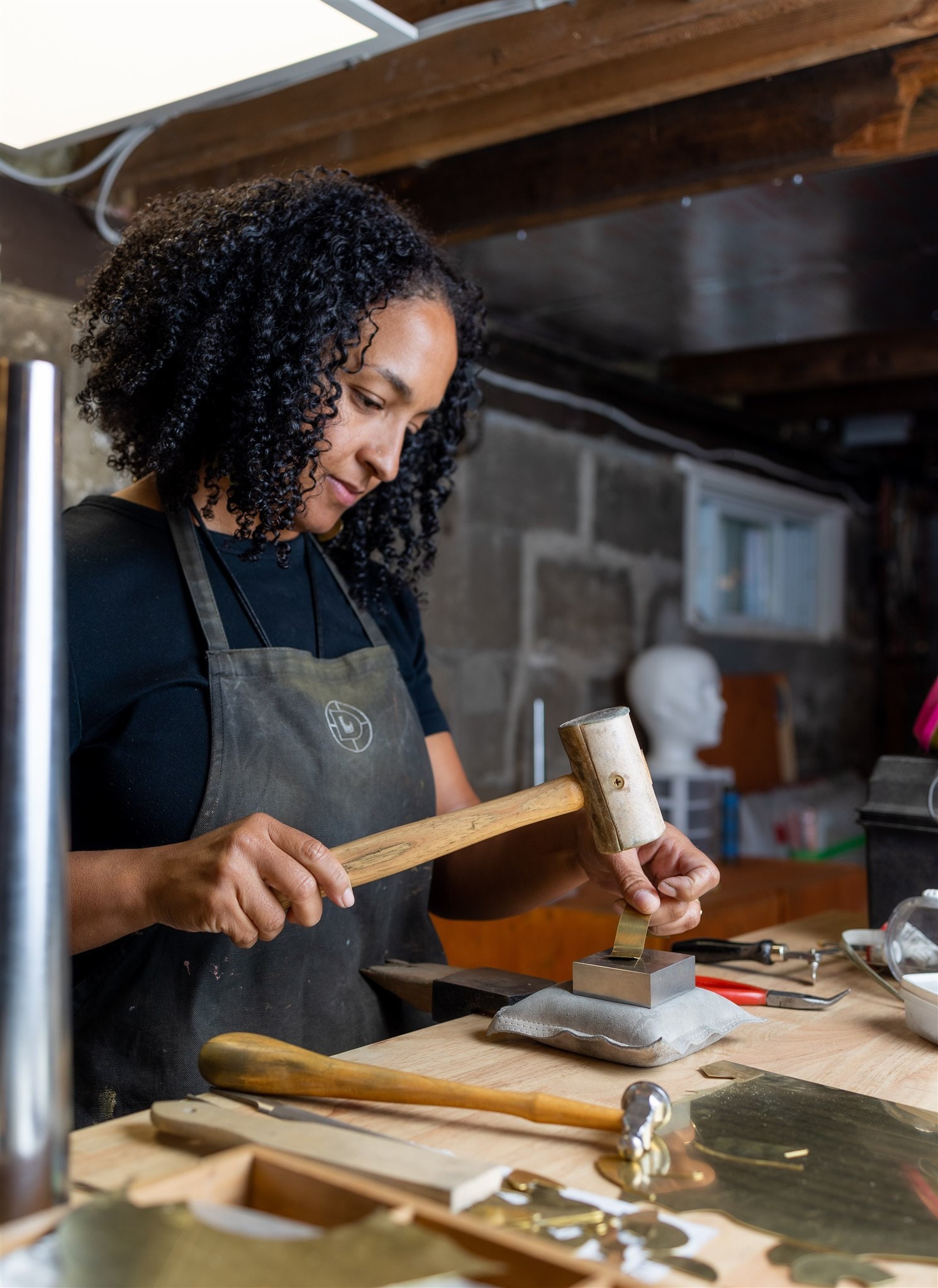 Photo by: Kenda Al Yakobi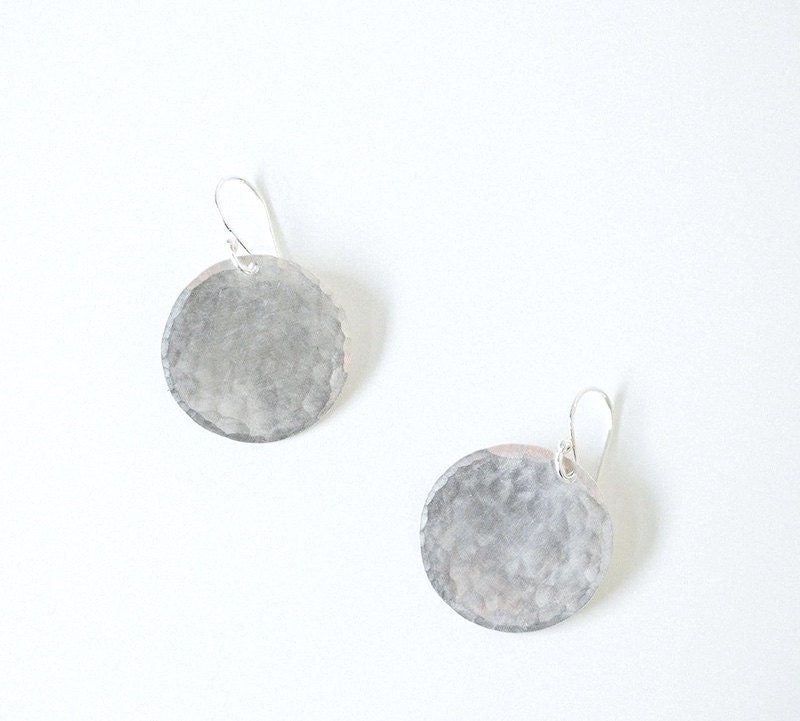 SHOP: Silver disc earrings from Enarmoured, $73
What's your advice for rocking bold jewelry?
Probably the number one question I get is, "Will this statement piece look good on me? Can I pull it off?" I've designed with the idea that they will look good on anyone. I think that wearing statement jewelry is a mindset. I find that wearing statement earrings always makes me feel better. I use the word "goddess" a lot—that inspires my work in terms of empowerment and the idea that one could feel strong like a goddess wearing the jewelry because it's bold and powerful-looking. I think of them as powerful pieces.
For anyone who's hesitant to buy a larger statement piece, I also create smaller disc earrings that have the aesthetic and charm of Enarmoured jewelry, but they're simpler in design and smaller in size.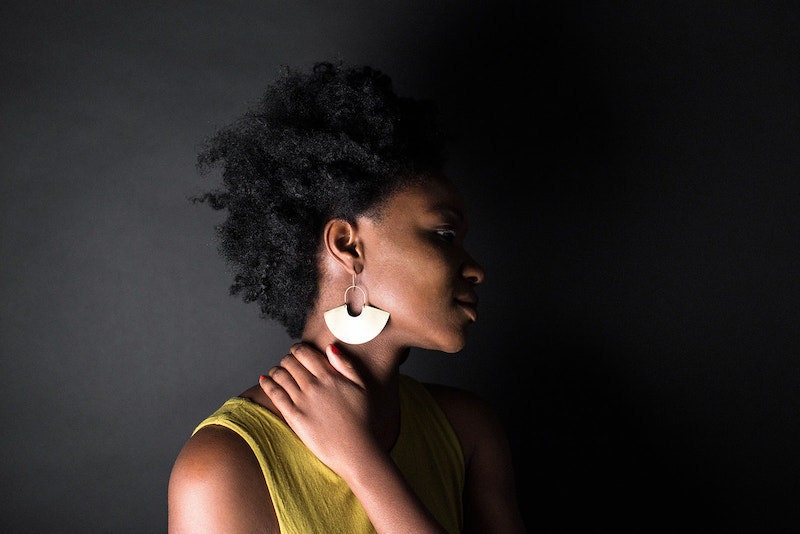 Photo by: Esther Lee Hollywood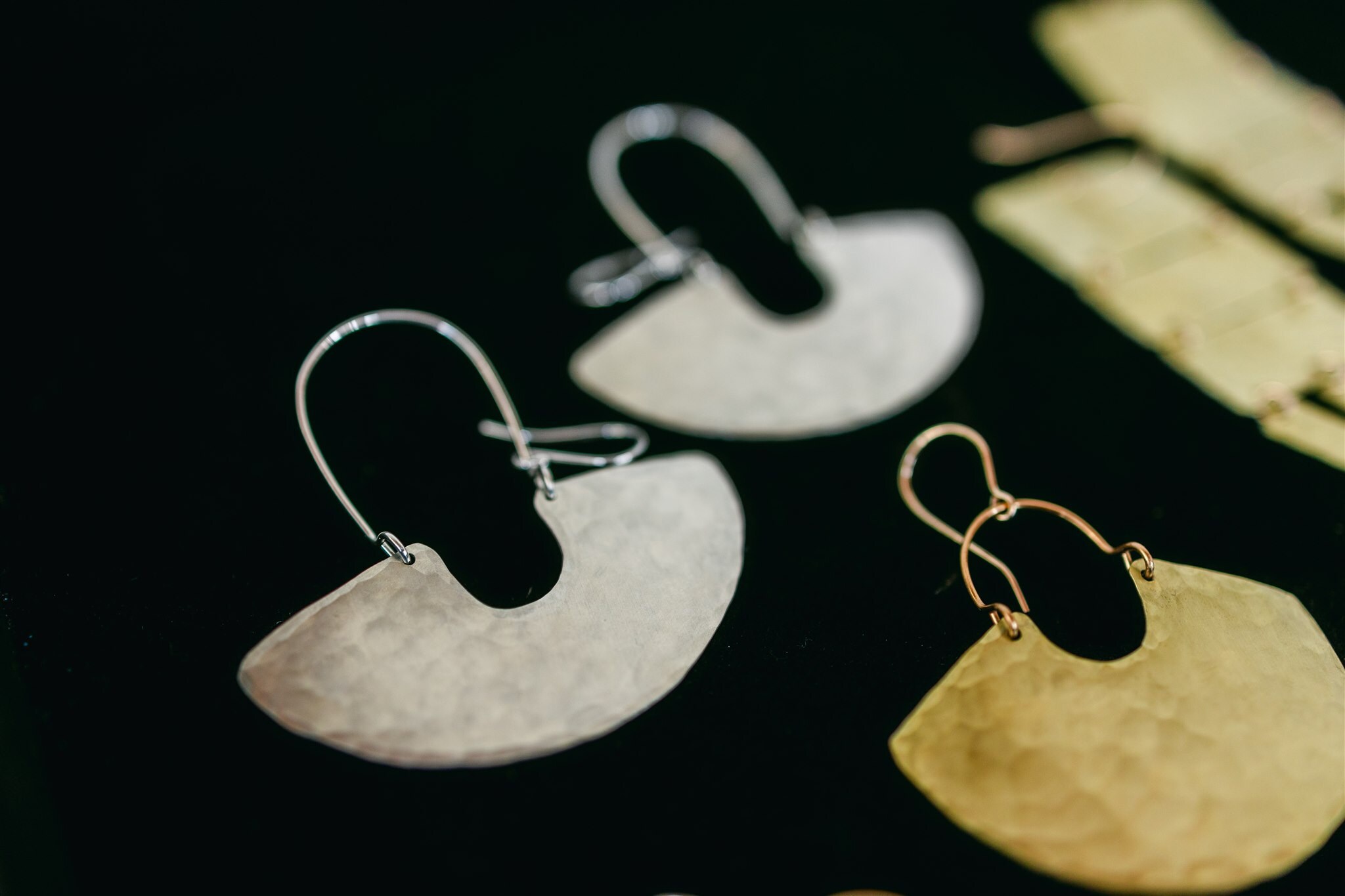 SHOP: Mini and textured goddess shield earrings in brass and silver from Enarmoured, $120 and $205, respectively
Photo by: Kenda Al Yakobi
What's your best-selling design?
The Tulip Shield earrings are my most popular design. They look good with everything. You can dress them up or down. I usually wear them with a T-shirt and jeans, and they look fabulous that way. They're elegant but bold, and they look good on everyone. They just fit right and they frame the face nicely.
Any tips on how to style your pieces for a fall fashion refresh?
I think fall is the perfect time for statement jewelry because it's not too hot out. And the earrings will always stand out. The hammered texture of my pieces looks nice against a leather jacket or a scarf with fall colors. Mixing metals is nice, like silver and brass, silver and gold, or brass and gold. Layering is also nice for the fall. Because my pieces are bold, you don't always have to have the matching earrings-and-necklace set. The tulip necklace with earrings look great together, but you can wear the pieces on their own, which is nice. And the necklaces look really great over sweaters, not just on the bare chest.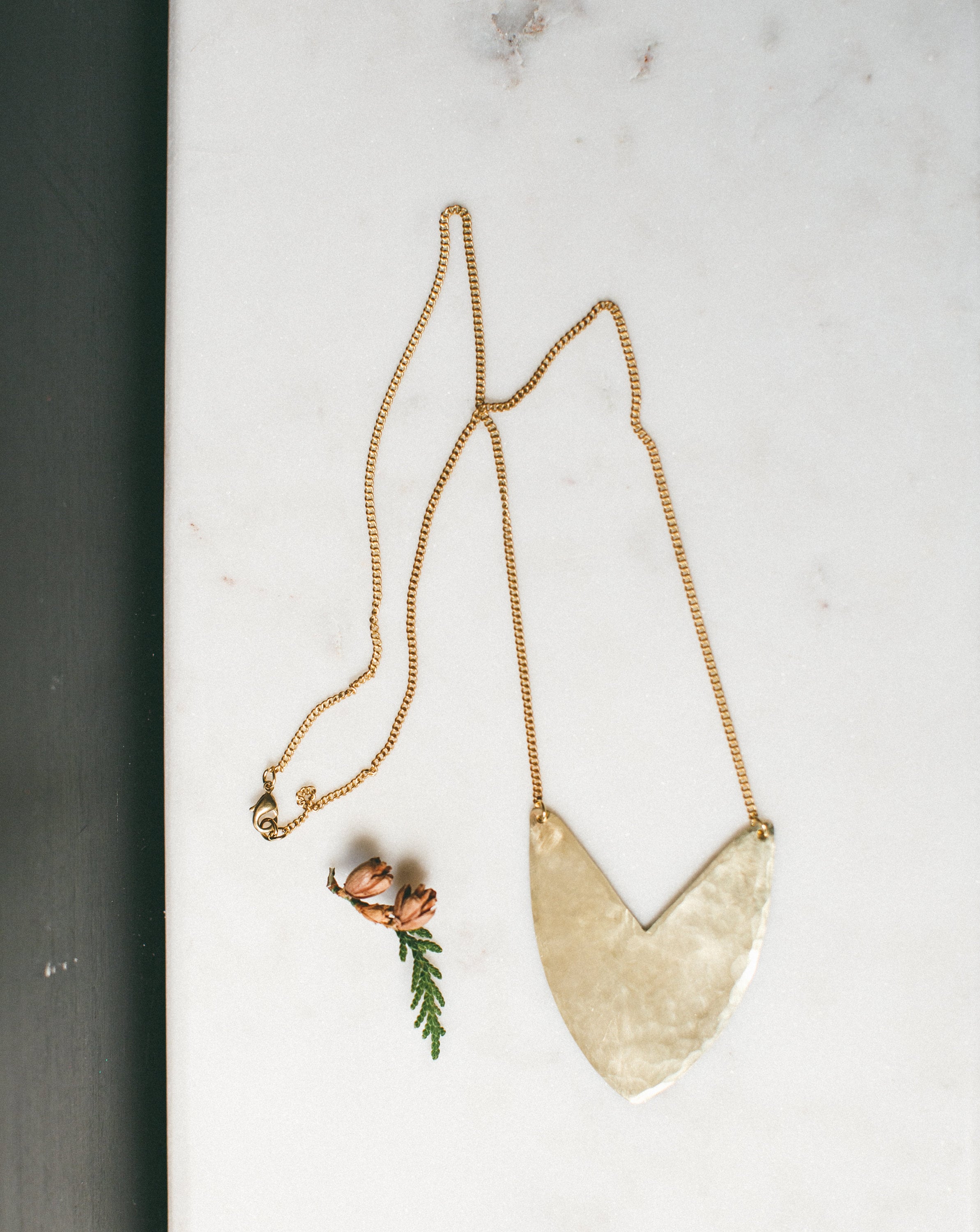 SHOP: Brass tulip shield necklace from Enarmoured, $120
Photo by: Esther Lee Hollywood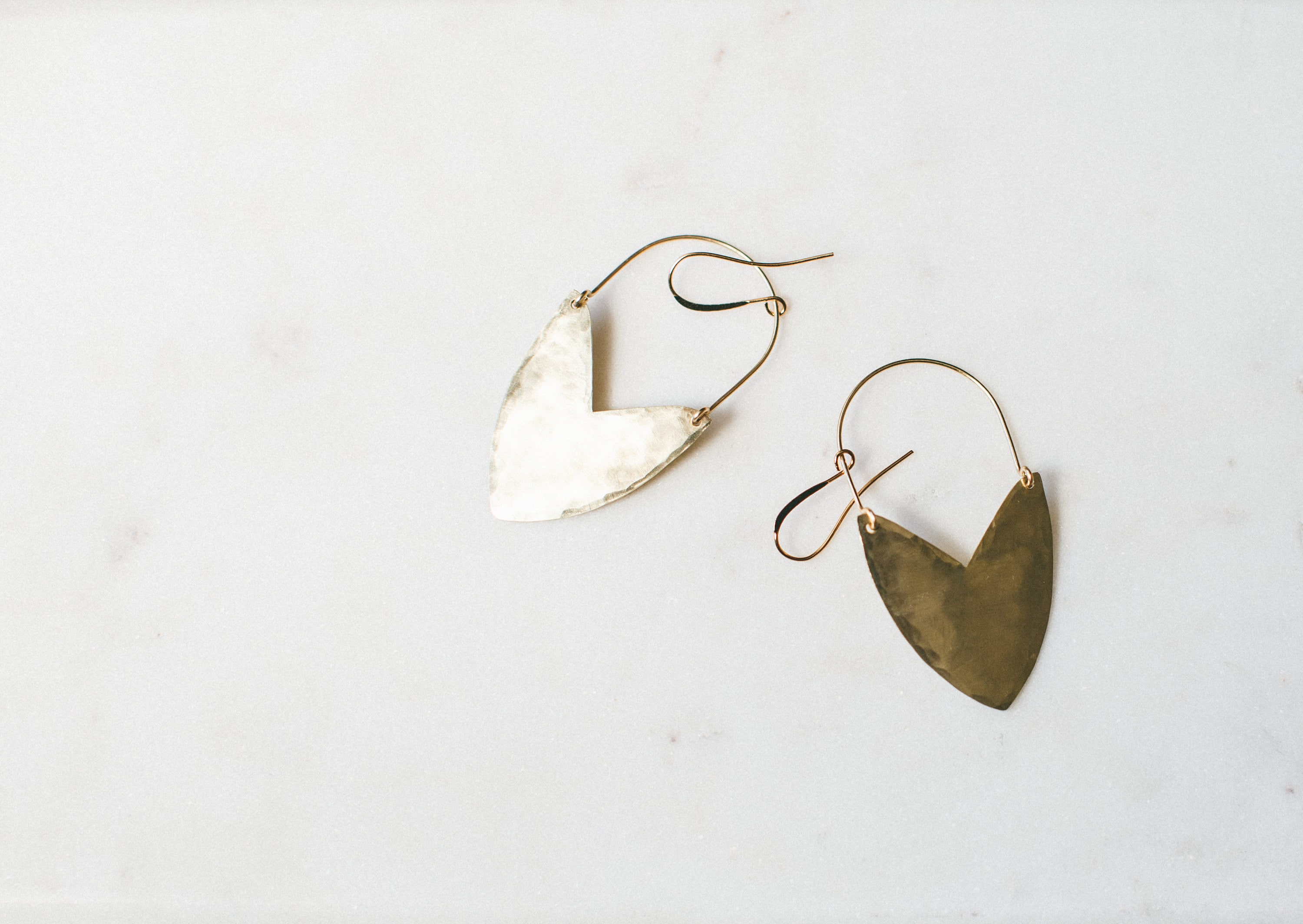 SHOP: Mini tulip shield brass earrings from Enarmoured, $120
Photo by: Esther Lee Hollywood
How do you approach making your jewelry?
Each piece, from start to finish, is entirely made by hand by me. I turn my sketches into templates, which I trace onto a flat sheet of either brass or silver metal. I hand-cut it out with a jeweler's saw, then file the edges and sand the piece, so that there are no scratches or marks on it. I hammer the surface with different hammers to achieve different finishes. Then, for all the pieces, I form them to give them a bit more of a shape; even though they're cut from a sheet of metal, none of the pieces lie completely flat. They all have a bit of a form to them that's achieved with a rawhide mallet. All of my pieces are assembled with jump rings, using pliers.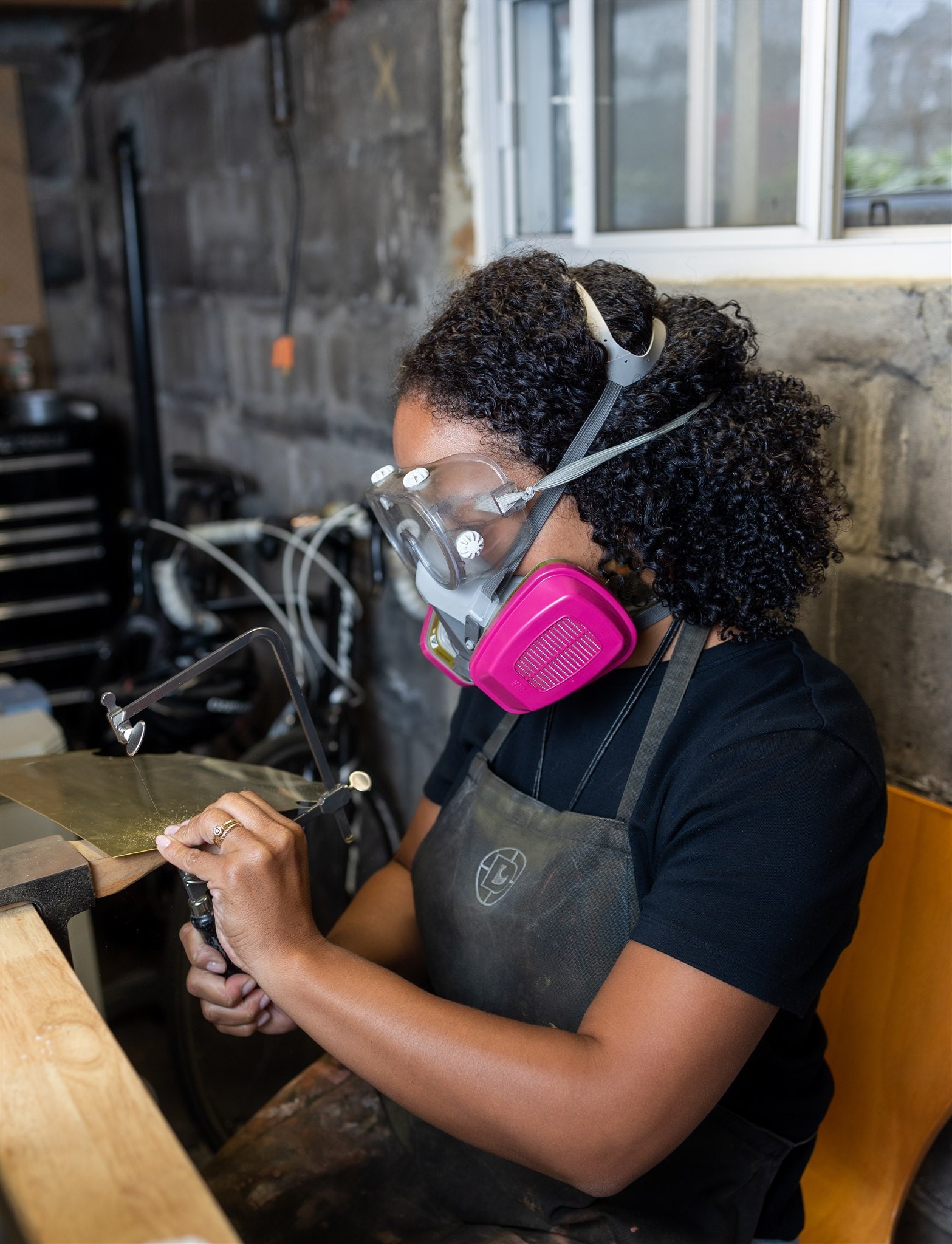 Photo by: Kenda Al Yakobi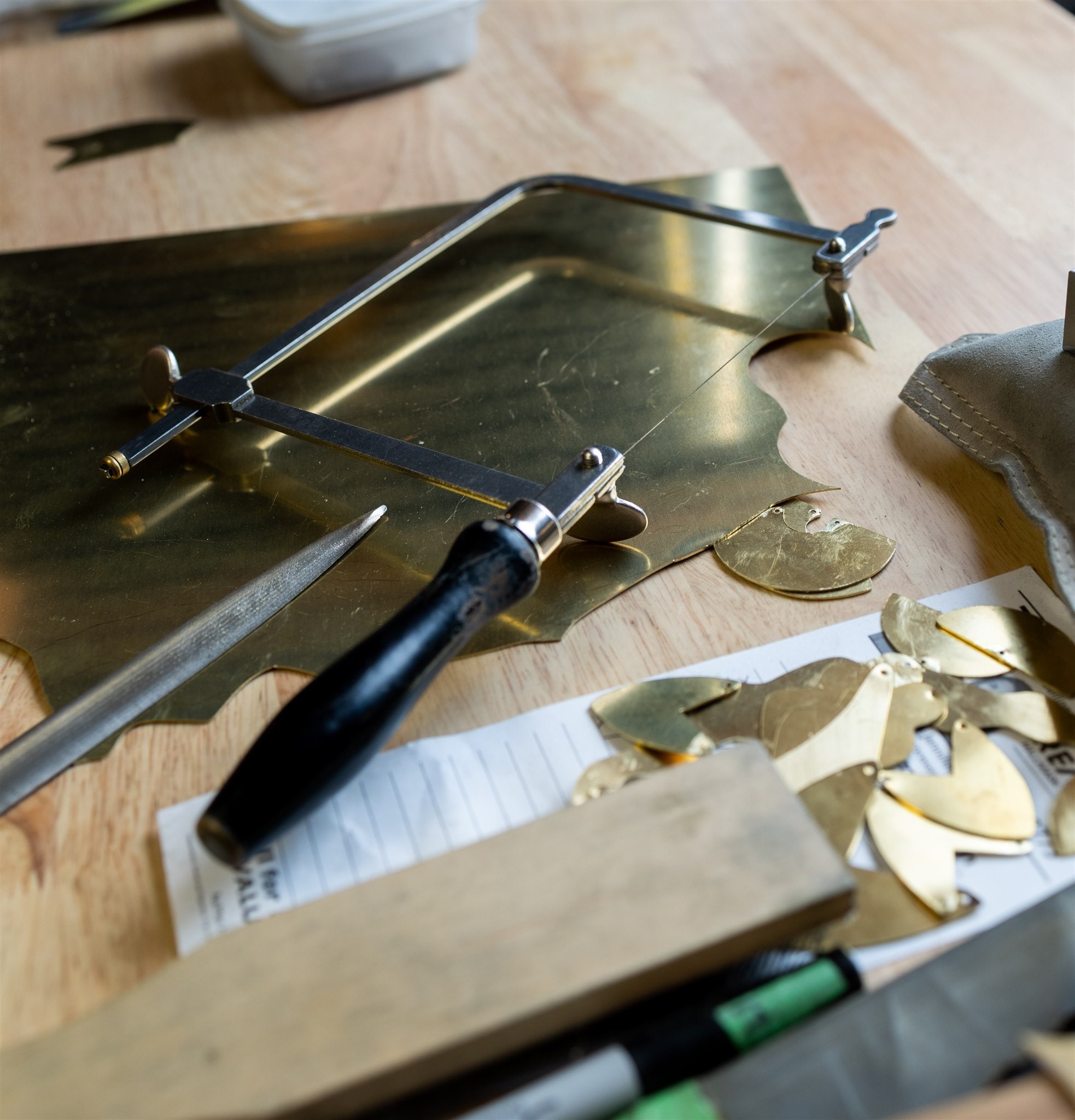 Photo by: Kenda Al Yakobi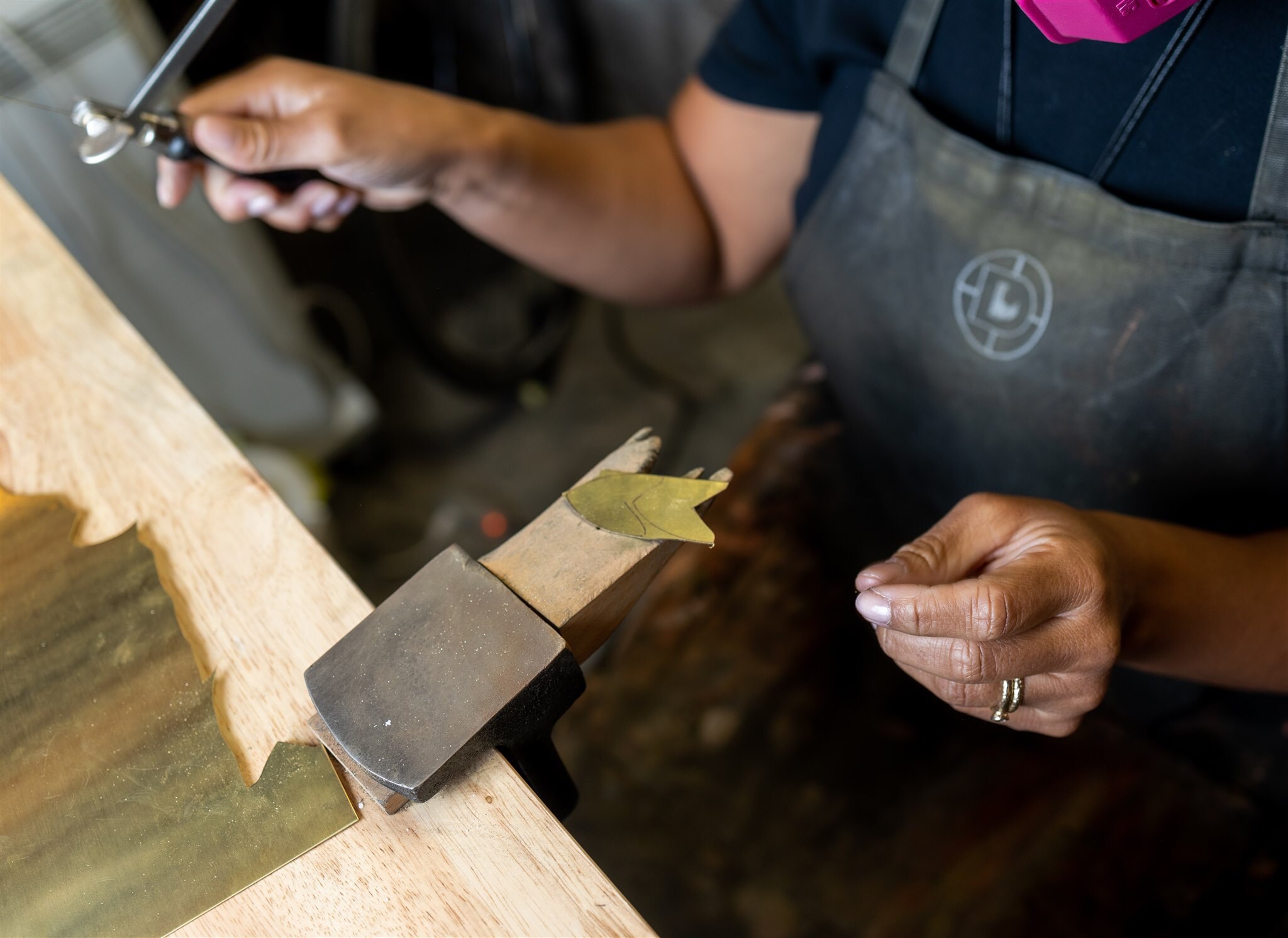 Photo by: Kenda Al Yakobi
Can you share some tips for taking care of your jewelry?
The best thing is to keep all the jewelry either in an airtight bag or in a jewelry box, out of the sun and in a place that's dry, not damp. And wipe it down after you wear it. If you want to polish it, invest in a silver polish cloth. That works for both the silver or brass jewelry.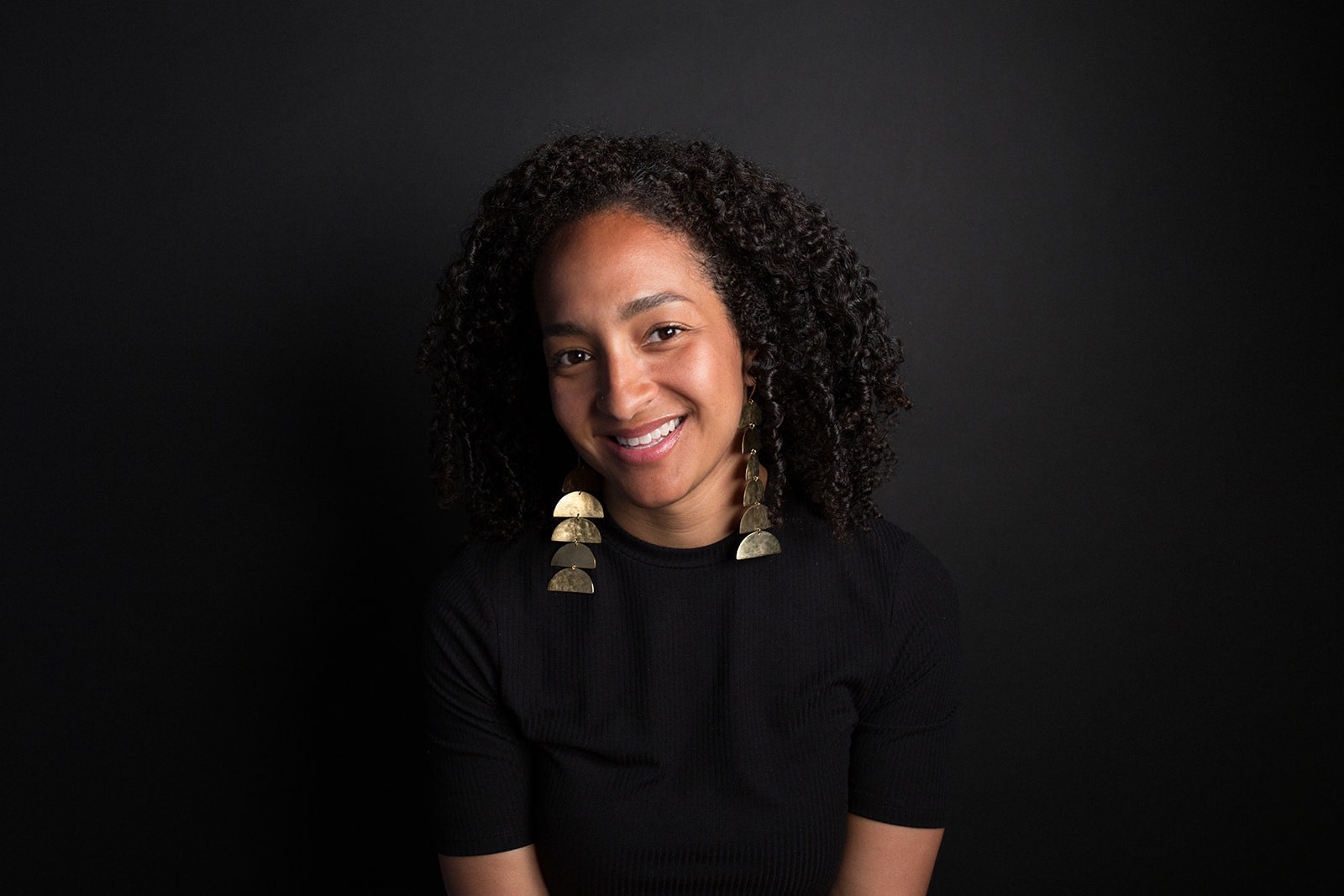 Photo by: Esther Lee Hollywood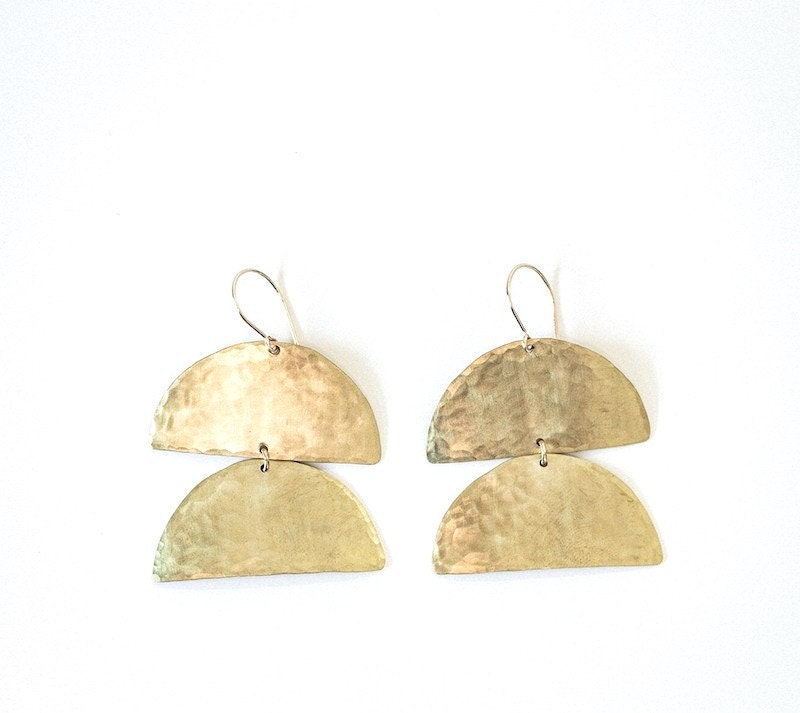 SHOP: Brass mini CataPillar earrings from Enarmoured, $120
What's meaningful to you about running your own business?
Being able to create art that people can actually wear and use. Each piece of jewelry that I make for my customer or client is made by hand with lots of love. I feel like that creative energy is transferred in the jewelry to the wearer.