Hi! my dear Alipearl hair lovers, a Long-awaited tax season sale is coming, Today's blog is wigs and bundles buying guide, Jenny I will provide first-hand information on deals and discounts to shop for the most suitable and discounted products on Alipearl hair, Don't miss it!
1.Universal discount site
WIDE Extra 6% OFF - CODE: ALIPEARL
≥2 Items, Get Extra 10% OFF - CODE: AP10
Over $259, Get Extra $20 OFF - CODE: SALE20
Over $399, Get Extra $30 OFF - CODE: SALE30
Over $499, Get Extra $40 OFF - CODE: SALE40
Tips: Customers can use the most appropriate coupons based on your order, not only for wigs but also for bundles, whatever item you order, there must be a discount to use, order more save more!
2.Buy One Get One Free
Buy Top Selling 4 Wigs, Get 1 Free Random Wig, Here Jenny will introduce what the four wigs are.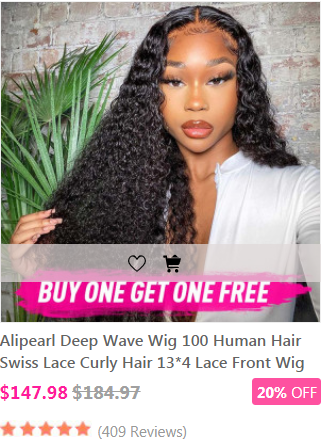 First of all, Deep wave is a tighter curl, which can make your hair look fuller and thicker. It is the top seller of wigs in Alipearl hair, you can't go wrong choosing it, Click the link of the pic to pick up a favorite one right now!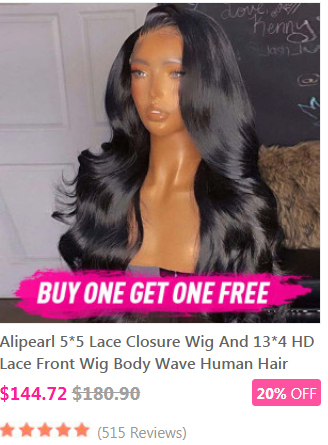 Straight and body wave is the pop wig textures among the wigs' field, they are friendly to people who wear wigs, Whether you are a novice or a veteran that want to restyle a wig, those two wigs are the best choice!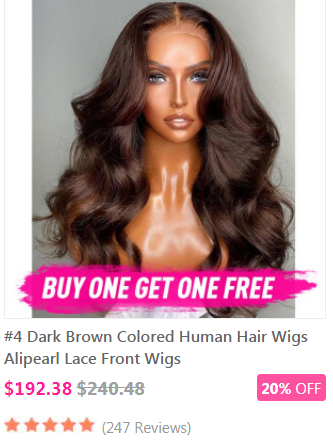 #4 color is a representative and popular color in Alipearl hair store, On wearing this wig, you will become mature and charming. Alipeal has #4 wigs vary in lace type and length, there much be one wig can fit you well, Can't wait to share your beauty!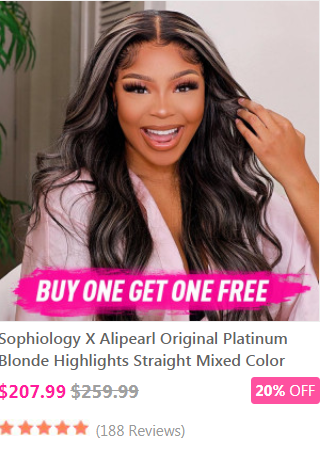 Grey Highlight color is a super cute color! Black and grey match very well, helping each other to stand out in their way. It creates a modern, youthful color that is expected to become the most popular hairstyle in 2022. The people who wear this wig must be the most attractive scenery!
3.Flash Sale: Loose Deep 13x4 Lace Frontal Wig 18-22 Inch, Price: $135 $155 $175
Loose deep wave hair is always a popular hair texture, The curls are smaller and tighter than can help to thicken and increase the hair volumes of hair wigs. So if you are right to search for this wig, don't hesitate, this discount is a great deal, for any of the wigs listed on this link, you can immediately take $100 off your order(CODE: AP100).
4.Over $101, Get Extra $100 Off - CODE: AP100 (Available For Selected Wigs)
Alipearl hair has different texture and various colored wigs can apply to the $100 off,The price is definitely compelling!
5.Free Gifts For Each OrderExcept the special discount.
We will also send gifts for each order!
The latest lowest discount of 2022, quick action, and shop now! Buy an Alipearl wig celebrate a year of hard work!