The study found that more and more consumers are choosing to shop online on a Monday after Thanksgiving to give back to family and friends during the holiday, hence the nickname Cyber Monday, which can be understood as the e-commerce version of Black Friday.
During Black Friday, Alipearl offers unprecedented discounts, and if you didn't place an order then, don't worry and regret it. On Cyber Monday, discounts only increase, you can find the best wigs at the lowest price on Alipearl.
Next, let's know about Alipearl's discounts during Cyber Monday!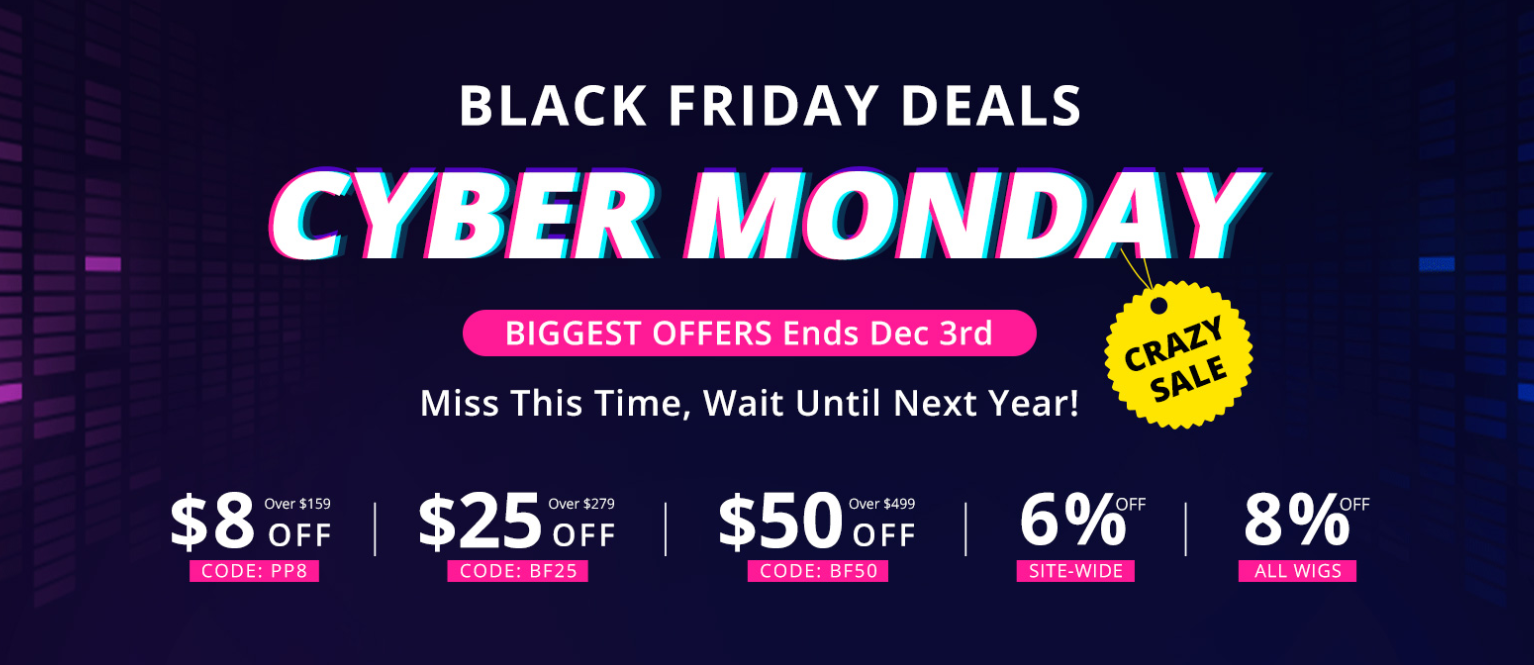 1.Buy More, Save More (Expired On Dec.3rd)
Over $159, Get Extra $8 Off - Code: PP8
Over $279, Get Extra $25 Off - Code: BF25
Over $499, Get Extra $50 Off - Code: BF50
Site-Wide, Get Extra6% Off - Code: ALIPEARL
All Wigs, Get Extra 8% Off - Code: APWIG8
2.Buy One Get One Free
1) Buy a specified 4x4 closure wig, send the same size curly headband wig
2) Buy home page two hot products, send a BOB wig 14 inches at random
The home page lists the top two selling wigs as DEEP WAVE HD LACE FRONT WIGS and STRAIGHT HAIR & BODY WAVE HD LACE WIGS. Besides, there are CLASSIC PRODUCTS and NEW ARRIVALS in two sections. In addition, you can also select according to different categories, such as DEEP CURLY HAIR, STRAIGHT HAIR, BODY HAIR, HD LACE WIGS, and so on.
Select two wigs from them on the home page, and you can get one BOB wig 14 inches at random, which is shorter than other original wigs and adds a polished, chic look for you.
3.Over $101, Get $100 Off, Code: BF100
In Promotion category, buy any one of the eight wigs, you can enjoy the discount.
4.24 Hours Limited Time Limited Stock Flash sales:
Curly 5*5 closure wigs 16-20 inches, $100, $125, $135 in order
5.Win Free Order:
Free For 1st, 10th, 20th, 30th...... Orders
6.Win $100 Cash Back:
Pick 10 Lucky Girls Every day
7.Gifts: Add The Gifts At Bonus Buy
The last lowest discount this year, the activity only these four days, a miss will wait for next year, quick action and shop now!