How to choose the best wig for you is not an easy task. There are so many factors you need to take into account, such as the color of the wig, the quality of the wig, and the length of the wig. If you're confused about how to choose a wig length, then keep reading.
What is wig length?
Wig length is measured from the root of the hair on the top of the head to the end. But the curly and wavy texture makes hair appear shorter than it actually is. For deep wave wigs, you are better to straighten your hair to get precise measurements.Wigs come in 8 to 30 inches. These lengths are most common in wig. Wigs with different lengths allow you to experiment with different styles. Whether it's a short bob or an extra-long glamorous wig, there is something for everyone.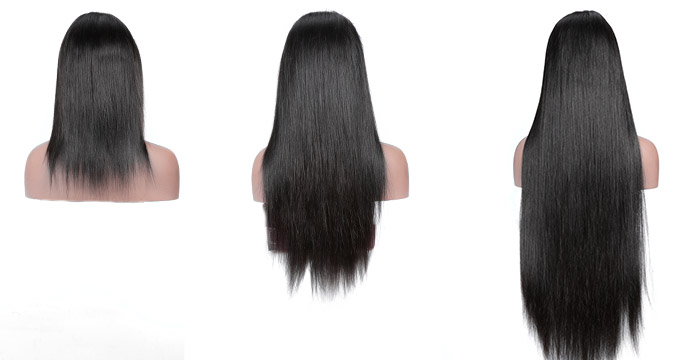 Categories of Wig Length
Wig length classification currently on the market:short, medium, long, and extra long.
Short Length: Short wigs are anywhere from a couple of inches to 10 inches long.
Medium: Length: Medium length wigs are from 12 inches to 16 inches long.
Long Length: Long wigs are from 18 inches long to 24 inches long.
Extra Long: Extra-long wigs are 26 inches and longer.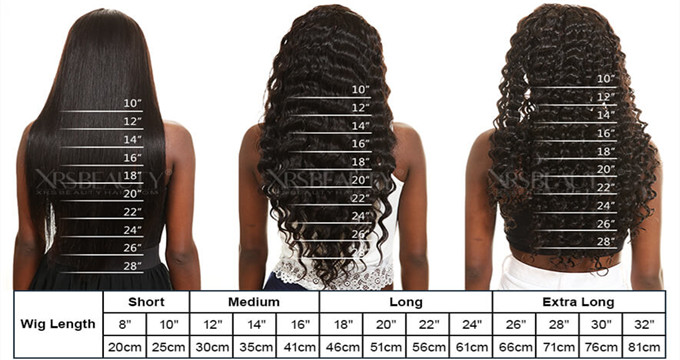 How a
Wig
is Measured
The measurement listed on the wig is an approximation of where the hair on the unit will fall after it is installed. For example, if it is 12 inches, the hair will land about 12 inches from the crown of your head. Wigs are measured from the root of the hair around the crown to the ends. Curly and wavy styles are measured the same way, but when taking the measurement, the hair is pulled straight to get an accurate measurement.
Would you like to measure the length of the wig you bought yourself at home? Here is how to measure your wig length in simple 3 steps:
1. First put the wig you purchased on the mannequin head, the steps are the same as you put the wig on your own head. If you just lay it flat on a table or elsewhere, it may result in inaccurate measurements.
2. Place the 0" end of a soft tape measure on top of the mannequin's head. In order to ensure the accuracy of the measurement results, please place the tape measure on the top of your head and start tilting down when measuring.
3. As you hold one end of the measuring tape at the crown, guide the measuring tape straight down the back of the wig until you've reached the end of the hair. If the hair is not completely straight, stretch the hair out with your hand as you measure.
How to Choose Best Hair Length
There are some things you should keep in mind when choosing the best wig for yourself. The following are some of the things you should be aware of:
Height:One thing you should pay attention to when buying a wig is your height. The length of the wig should match your height. We know that the length of a wig will complement or offset your height. For example, if you are not that tall, you should not wear a very long wig. It will make you look shorter. If you are not tall, you should choose a short or medium-length wig, it will give others the illusion that you are taller than you actually are.
Hair texture : Remember that curly and wavy hair shrinks a bit naturally. So, if you want a long curly look, you'll have to choose a length that is a few inches longer than you want.
Body shape:Your body shape and structure can also determine the length of the wig you should purchase. For example, if you are tall and have a long body, a medium length wig may appear shorter and therefore not suitable for you. Also, long locks can accentuate your long neck. Consider your neck length and torso before choosing a wig length. If you're below average height, the average wig will appear longer on you. On the other hand, if you're tall, wigs will appear shorter on you.
Face shape:Your face shape is one of the most important factors you need to consider when choosing the best wig length, and if you buy a wig that doesn't fit your face shape, then the wig won't be worth it. For example: You have an oval face and you can wear a wig of almost any length. But if you have a round face, a longer wig is better for you. If you have a square face, a shorter layered style works best for you, and you can opt for a bob wig.
With all that in mind, do you know which length of wig would work better for you? Alipearl have wigs in a variety of lengths, colors and styles, so come and choose the one that fits you best. You can buy from Alipearl with confidence because we keep up with all the trends and provide our customers with an easier experience to receive their items in a timely and friendly manner. Our customers satisfaction is important to us and we strive to maintain that. We aim at letting more beautiful ladies get superior quality hair products at the most affordable price.
If you are looking for a unique wig that offers incredible service, don't hesitate to come to Alipearl and pick it up!