The water wave wig is "s" shaped and looks very natural. Human hair water wave wig is very popular.
Many people who like to wear water wave wigs find that their wigs will become dry and stiff over time. What is the main reason that caused the hair to dry?
This article will let you know how to repair damaged wigs and provide you with suggestions on how to restore wigs that have lost their elasticity.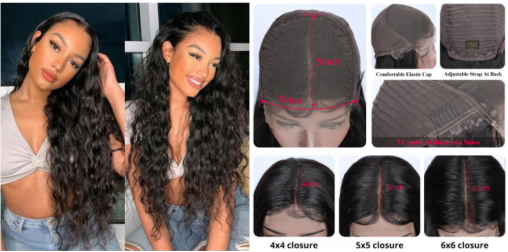 Why do human hair wigs become dry?
For natural hair, your scalp produces a natural oil called sebum, which helps keep natural hair moist. However, wigs are separated from the scalp and cannot produce oil, which will cause them to become dry over time.
At the same time, there are other factors that can also cause human wigs to become dry and stiff. For example, long-time exposure, seawater corrosion, etc.
If you could prevent a human hair lace front wig from being exposed to these elements, your wig can keep it moist and prolong the use time after proper care.
We suggest not to wear a wig when sleeping because the friction between cotton pillowcases and wig will make the wig dry, which is easy to lead to a series of problems such as knotting and hair loss.
How to repair damaged wigs?
What should we do when affordable human hair wigs have begun to tie and looks like it can't be untied?
Wash wig
The next step is to wash the wig carefully to ensure that all dirt is washed off. When washing hair, it is better to let the water flow in the same direction as the hair to prevent knotting. Then, carefully blister your wig with a moisturizing shampoo.
Moisturize your wig with conditioner
After washing the shampoo off the wig, you need to use some moisturizing conditioner. Apply a human hair wig conditioner to cover your whole water wave wig. When applying, you should use more conditioner on the neck back, and hair tip of the wig. Because when a person's wig dries and loses elasticity, it is usually most obvious in these areas.
Use natural oil to care for wigs
What wigs lack most is water. Once wigs are dry and knotted, the first step is to apply natural oil, such as Moroccan oil or coconut oil, on wigs. Leave the natural oil under the shower cap to moisturize your wig for 30 minutes.
When you do not use a wig and take off the wig, do not throw it around. You can place the wig on the wig frame or wig manikin to prevent knotting.
Where to buy water wave wigs?
The best hair websites are those with 100% human hair, those with good quality and reasonable prices, and accept PayPal account payments. West Kiss Hair store meets all requirements.
West Kiss Hair store offers the highest quality human hair products. They take women as their main customers and deliver exquisite beauty to you with unique designs.